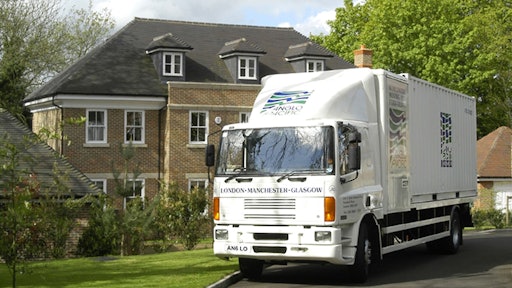 International removals firm Anglo Pacific is live tracking its entire fleet with Masternaut to maximize customer service and efficiency. The company handles up to 500 consignments a week that are destined for overseas. The real-time pan-European Masternaut vehicle tracking system provides peace of mind for the operations team, while saving up to 10% on fuel usage and reducing administration time.
 
"With Masternaut we can quickly locate any of our vehicles and get our people to where they are needed. It brings new levels of visibility and responsiveness with the added benefit of making sure each vehicle is being driven safely and used efficiently. The system also provides detailed weekly reports for each vehicle, which we can review in our monthly management meetings," says Peter Hatt, Operations Manager, Anglo Pacific.
 
Peter Hatt is a convert to satellite vehicle tracking having implemented Masternaut at another company, which greatly benefited the firms operations. It was also used in the successful and timely recovery of a stolen van.
 
"The system is easy to use giving a full view of vehicle movements. Importantly, all of our departments are able to use the system to keep track of their drivers. I use it to send SMS messages direct to the drivers; these messages are logged by the system and are, therefore, provide a secure history of the content of each message and when they were sent. It also saves planning time and it makes it possible to ready the warehouse team for returning vehicles – we can see when they are coming back and the warehouse can be prepared for the number of consignments on board each vehicle," he adds.
 
Anglo Pacific is one of the UK's largest independent international removals company and handles around 20,000 individual shipments of personal and household effects worldwide annually from depots in London, Manchester and Glasgow.