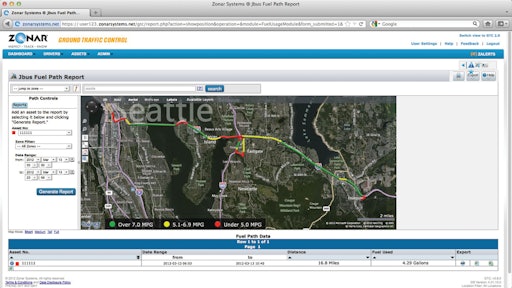 Zonar, provider of electronic fleet inspection, tracking and operations systems, announces the availability of a new patent-pending technology that adds fuel as a fifth dimension to the firm's HD-GPS reporting.
Used by private and public fleets, Zonar's vehicle telematics platforms have always utilized four-dimensional -- latitude, longitude, time and odometer -- GPS reporting. This methodology offers users the highest value at a very competitive cost because it ensures data is captured and transmitted only when it needs to be, not just based upon an established time cycle. Now, with the addition of fuel as the fifth dimension, Zonar's telematics platforms will not only determine sample rates based on geographical data, but also fuel consumption.
"Our unique sampling methodology accounts for route and driving changes. For example, if a vehicle is driving in the city with frequent stops and turns, the computer samples much more frequently than if the vehicle is running down a long straight highway," says Mike McQuade, Zonar's Chief Technical Officer.
Employing Zonar's patent-pending technology, fleets will now be able to easily identify, with tremendous detail, the routes and lanes over which their vehicles are most and least fuel efficient. The GPS sampling density increases when fuel consumption increases or "spikes" and relaxes when fuel consumption decreases or is relatively static.
"Fuel is the number one variable cost for fleets. Incremental decreases in fuel consumption can greatly impact the bottom line," adds McQuade. "With our telematics platforms, fleets improve their ability to measure fuel consumption and that information is coupled with a litany of other essential data elements including speed, vehicle health and load to name a few."
In addition to five-dimensional data sampling, Zonar's telematics platforms transmit engine fault codes and verified electronic vehicle inspection data in real-time. This information alerts maintenance personnel to potential service events and provides the ability to remotely diagnose vehicles in the case of a malfunction.
Also captured and transmitted in real-time is a robust set of driver performance metrics including, but not limited to, accelerating too quickly, hard braking, excessive idling, anti-lock brake system (ABS) activation, and roll stability control (RSC) activation. All of the data captured is available instantly through Zonar's secure, web-based Ground Traffic Control (GTC) fleet management portal. GTC not only presents the data via dashboards and traditional reporting, but also employs push technology to send alerts via text message, email and screen pops to notify the proper personnel when a vehicle or driver is performing outside acceptable parameters.