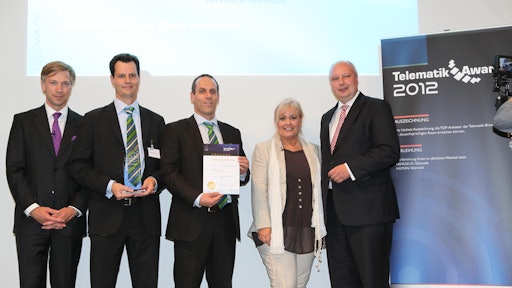 WABCO Holdings Inc., a global technology leader and tier-one supplier to the commercial vehicle industry, announces that its TrailerGUARD telematics system with remote diagnostics technology for trailer fleet management has won the 2012 Telematics Award for logistics and transport. This top industry honor was awarded recently at IAA Commercial Vehicles 2012, one of the industry's most comprehensive tradeshows.
"We are proud to be honored with the 2012 Telematics Award as it recognizes that WABCO's TrailerGUARD sets the transport industry's standard to further optimize utilization of trailer fleets and to reduce operating costs," says Nick Rens, WABCO Vice President, Trailer Systems and Aftermarket. "Powered by our passion for innovation, WABCO continues to help transport professionals to increase vehicle safety and efficiency while also enabling them to assess their current assets and future investments."
TrailerGUARD's new remote diagnostics function is the industry's first of its kind for a trailer's electronic braking and air suspension control system. It allows remote diagnosis by providing information about the trailer's technical status in real-time. Fleet operators receive a diagnostic code via the easy-to-use TrailerGUARD internet portal. It allows operators to decide whether to replace or repair the trailer before it suffers damage. With its new remote diagnostics function, TrailerGUARD enhances real-time support during transport.
TrailerGUARD telematics also allows fleet managers to remotely monitor the vehicle's various operating data such as brake wear, mileage, axle load, tire pressure, temperature inside a refrigerated trailer and door status, among other operating functions. Workshops can remotely download the vehicle's diagnostic code history before the vehicle is at their premises, ensuring that necessary spare parts are available. It optimizes maintenance efforts, resulting in reduced downtime and lower related costs.
In 2010, WABCO's TrailerGuard won the Telematics Award for asset protection, in recognition of the system's outstanding value.
TrailerGUARD telematics is part of WABCO's award-winning Intelligent Trailer Program, a suite of applications for safer, more efficient and more innovative operation of all types of trailers. Trailer builders and fleet operators select those functions most relevant and cost-effective for their needs through separate or combined modules.