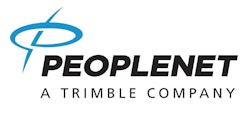 PeopleNet, a Trimble Company and leading provider of fleet mobility solutions, has announced the availability of an introductory version of Cummins Connected Diagnostics on the current PeopleNet g3 platform. This collaboration between Cummins and PeopleNet builds upon the integrated fault code analysis available to PeopleNet customers today.
With this service, the PeopleNet system wirelessly connects Cummins-powered equipment to genuine Cummins fault code analytics to provide immediate diagnosis of vehicle condition. The service notifies the fleet manager of the severity of the issue and, within seconds, offers expert guidance to fleet maintenance and operations management.
"We're thrilled to continue to evolve our capabilities with Cummins, as we work toward one comprehensive package that will give fleets a competitive edge and more fleet performance information," says Garland Jackson, General Manager for the OEM business unit at PeopleNet. "A key benefit of having the Cummins Connected Diagnostics service is that it will work for any PeopleNet customer running a mixed fleet with Cummins engines."
The service will help fleets manage uptime, which will help keep trucks and drivers moving and profitable. The service detects and diagnoses emerging potential equipment failures and notifies the appropriate people with actionable information. By preventing unscheduled service events, equipment utilization goes up, scheduled arrivals are on time and drivers can maintain productivity.
On April 1, fleets can activate this introductory version of Cummins' Connected Diagnostics on a PeopleNet system by contacting a PeopleNet Sales Representative.
Companies in this article