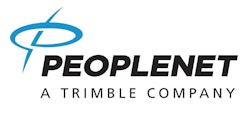 PeopleNet, a Trimble Company and leading provider of fleet mobility technology, announces that it has been selected by Kenworth to be the exclusive telematics provider for Kenworth's remote diagnostics system that is being rolled out this summer for new Kenworth Class 8 trucks powered by PACCAR MX-13 engines. This technology will help fleets better manage the uptime of their vehicles by automatically notifying fleet managers and dealers of potential service events and providing expert service recommendations.
PeopleNet's vehicle health monitoring technology provides automatic notification of vehicle health issues based on severity and recommends immediate actions that can prevent a breakdown or unscheduled service event. Kenworth Class 8 trucks powered by PACCAR MX-13 engines will have KENWORTH TruckTech+ powered by PeopleNet's integrated vehicle health monitoring system. This system includes the PeopleNet Mobile Gateway, managed network, cloud services and an online portal with real-time information for fleets and dealers, along with analytics for Kenworth engineers.
"We're excited to be Kenworth's exclusive provider for remote diagnostics, which will enable a fleet to monitor vehicle health in real-time," says PeopleNet's OEM General Manager Garland Jackson. "The PeopleNet solution delivers actionable data based on enhanced analysis of fault codes to immediately give fleets and dealers the information they need to prevent unplanned service events. With the integrated PeopleNet service, fleets can be confident they are doing everything they can to keep their trucks on the road."
"This new level of analysis and interpretation allows Kenworth customers to potentially stay on the road longer, or get out of the shop quicker. Kenworth's goal is to help customers maximize uptime and KENWORTH TruckTech+ will make an important contribution towards that goal," says Preston Feight, Kenworth General Manager and PACCAR Vice President.
"PeopleNet was eager to have the opportunity to creatively collaborate with Kenworth and other Trimble companies to design this solution. We tapped VUSION for equipment performance analytics, which is used to support Kenworth's research and development activities, and TMW Systems for user interface design and domain knowledge of asset maintenance and dealer service management systems. The combination of hardware, software and services result in an end-to-end integrated vehicle health solution for Kenworth unlike others on the road today," says Jackson.
The Kenworth remote diagnostics system was announced at the annual Mid-America Trucking Show held in Louisville, KY, from March 26 to 28, 2015.
Companies in this article