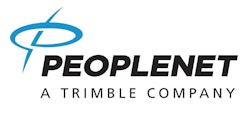 PeopleNet, a Trimble company and leading provider of fleet mobility technology, announces that it has been selected by Peterbilt as its partner for the truck manufacturer's new SmartLINQ™ system, a fully integrated, factory-installed remote vehicle diagnostics system that will be standard on all Peterbilt models equipped with a PACCAR MX-13 engine. The new technology, which will launch this summer, will help fleets better manage the uptime of their vehicles by automatically notifying fleet managers and dealers of potential service events and providing expert service solutions.
SmartLINQ provides automatic notification of vehicle health issues based on severity and recommends appropriate actions that can help prevent a roadside service event. SmartLINQ includes the PeopleNet Mobile Gateway that provides real-time information to a web-based portal for an at-a-glance overview of fleet health, including any possible service issues that may need attention. Additionally, customers can choose to have the system communicate with one or more Peterbilt dealerships to create an action plan should a vehicle need quick attention. The dealership can be notified of the vehicle's arrival – with preliminary diagnostics based on the triggered diagnostic codes – and have a service bay, technician and potentially needed parts at the ready.
"SmartLINQ is the intelligent solution for getting the most productivity, profitability and performance from each Peterbilt equipped with this new technology," says Darrin Siver, Peterbilt General Manager and PACCAR Vice President. "Utilizing Peterbilt's new on-board diagnostics system, SmartLINQ remotely communicates truck health to the fleet manager, helping them plan and prioritize service and repairs at Peterbilt dealerships for maximum uptime while keeping deliveries on-time."
"Knowing that uptime is a key factor in truck purchase decisions, we are proud to be Peterbilt's choice for helping to provide its customers with real-time health monitoring tools that enable maximum uptime," says PeopleNet's OEM General Manager Garland Jackson. "Detecting a fault code is important, but telling a fleet or dealer what it means and how to take action – all in real-time – has the ability to transform how a fleet operates."
In designing the solution, PeopleNet collaborated with other Trimble companies, including VUSION for equipment performance analytics used to support Peterbilt's research and development activities, and TMW Systems for user interface design and domain knowledge of asset maintenance and dealer service management systems.
The Peterbilt SmartLINQ service was announced at the annual Mid-America Trucking Show held in Louisville, KY, from March 26 to 28, 2015.
Companies in this article