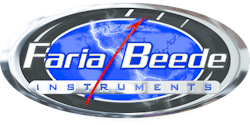 Following a strategy to expand its telematics offerings, Faria Beede Instruments Inc. announces that it has acquired the assets of FW Telematics of Uncasville, CT, effective July 5, 2015.
Faria Beede, a world leader in engine monitoring instrumentation, introduced its EntelNet line of telematics systems last year. EntelNet allows operators to communicate directly with CANbus systems and send the engine diagnostics and systems information via Wi-Fi to any Internet-capable device (smart phones and tablets).
FW Telematics, a leading machine-to-machine (M2M) service provider, expands that focus and provides a suite of applications to provide real-time information about the location and status of remote assets — such as fishing vessels, workboats, mining equipment, trains and oil and gas systems from anywhere in the world.
"The acquisition of FW Telematics, provides us with a unique opportunity to integrate our EntelNet telematics system with their Iridium/GSM systems and back office software to provide a complete package to an extremely diverse market," says David Hickey, CEO of Faria Beede Instruments. "Our hardware/instrument development platform, combined with their software and back office provides an innovative platform for future growth."
The FW Telematics brand, including its widely used Faria WatchDog VMS system, will be rebranded under the EntelNet name. Faria Beede will offer the EntelNet brand under the new Faria Beede Telematics business unit. Faria Beede is committed to servicing all of the current FW Telematics customers with the same care and dedication that the FW Telematics team and the Faria WatchDog brand have come to be known for.