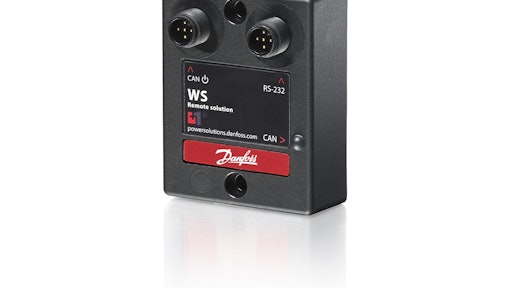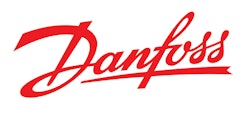 Danfoss Power Solutions has announced an expansion of its robust and affordable "plug-and-perform" Telematics Solutions platform, which uses data to boost efficiency, extend product lifespan and minimize downtime for off-highway equipment. Four new platform product offerings feature enhanced applications for remote service, efficiency management, fleet management, anti-theft, operator safety and connectivity.
The Danfoss Telematics Solutions platform provides customers with easy-to-develop, custom applications through its PLUS+1 GUIDE (Graphical User Integrated Development Environment) system that uses drag-and-drop editing. This makes application development for system controls simple and accessible, even for programmers lacking formal development training.
By combining machine-integrated technology, cellular network connectivity, data transfer via Wi-Fi and a customizable, intuitive user interface, the Danfoss Telematics Solutions platform gives fleet owners visibility of how, when and where their equipment is used. Within the heavy equipment industry, the Danfoss platform differentiates itself from others by providing a flexible and comprehensive suite of telematics performance — not just bits and pieces of capability — into an all-in-one system.
"Telematics data is only useful if it can be easily understood and managed," says Marco Tacke, Product Marketing Manager of Telematics Solutions at Danfoss Power Solutions. "The Danfoss Telematics Solutions experience is guided by the intelligent management of information that flows seamlessly to and from equipment, giving customers the opportunity to 'plug-and-perform' rather than 'code-and-compile.'"
Danfoss Telematics Solutions platform: New products featuring enhanced applications
The four new product offerings provide a variety of options geared toward specific user needs and preferences, and are available for both new machines and existing fleet retrofits:
The WS103 unit features wireless CAN via Wi-Fi, seamless peer-to-peer (vehicle-to-vehicle) networking and IT infrastructure, and TCP/UDP connections, as well as prepared Bluetooth and satellite capabilities. User benefits include eliminating the need for CAN cable on a machine, availability of Wi-Fi service tool connection (peer-to-peer/infrastructure) and the ability to connect a WS103 unit to a WS403/503-equipped machine. These benefits save time and money during service, development and production, and increase machine availability in areas without cellular coverage, as well as increase functional safety during startup.
The WS403J unit features a wireless CAN interface for data transmission via UMTS/HSPA with Japanese DoCoMo Certification, providing the user benefit of expanded global reach.
The WS503 unit offers the benefits of dual CAN for mature CAN infrastructures, RS232 interface for support of satellite connections, data logging on WS including USB access, and direct inputs and outputs, allowing for an increase in machine availability and cost savings through the active protection of assets and machine operators. Enhanced connectivity is offered as well via satellite support and the ability to parse data to the Danfoss Telematics Solutions portal.
The WS503BP (battery pack) unit mirrors user benefits offered by the WS503 unit — dual CAN for mature CAN infrastructures, RS232 interface for support of satellite connections, data logging on WS including USB access, and direct inputs and outputs. However, it also utilizes a battery pack 4,000 mAh, with the benefit of fleet protection by shock sensor, battery pack, local geofence and I/Os. If a machine is stolen, for example, the battery pack ensures that the equipment will send out a signal tracker regardless of machine power.
"Danfoss created our Telematics Solutions platform with the future in mind, and by now expanding the platform with enhanced applications, we are focused on continuing to create big efficiencies for companies of all sizes in a competitive market," Tacke says.