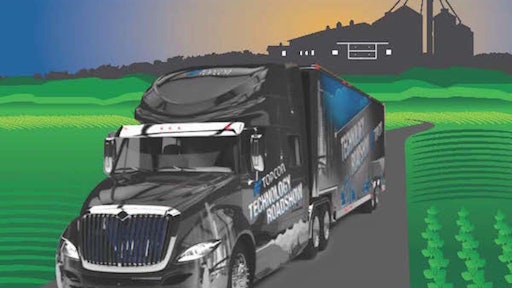 Topcon Positioning Group announces it will showcase its precision farming technology to California agribusiness at World Ag Expo 2016 through the Topcon Technology Roadshow truck. The mobile solutions center is outfitted with agricultural products and solutions from all the Topcon ag brands under one roof — Topcon, Digi-Star, NORAC, RDS Technologies and Wachendorff Elektronik.
Scott Langbein, Topcon Positioning Group Director of Marketing in the Americas, says, "Topcon is well-known for excellence in the auto-steering and crop-growth measurement arenas, and now our additional brands showcase how the Topcon family provides complete solutions for broader coverage of precision ag applications."
The solutions center will be located at booth R34 and R36 from February 9–11 on the World Ag Expo grounds in Tulare, CA. The event is described by organizers as the largest annual expo of its kind.