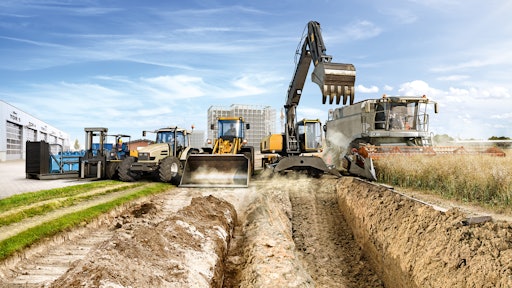 International technology company Continental is intensifying its activities outside the automotive sector and further expanding its industrial business. In the future, technologies for construction, agricultural and material handling machines and vehicles will come increasingly into focus. "With this in mind, we are consistently working toward our strategic aim of achieving a more balanced customer portfolio across the automotive sector and other industries, and doing an even better job of safeguarding the future viability of the company in the face of possible economic fluctuations. We see great opportunities here: based on current forecasts, we are assuming possible sales potential in the high triple-digit million euro range by 2020," explains Helmut Matschi, member of the Continental Executive Board.
The portfolio ranges from displays and instrumentation to solutions for telematics, electronic control units, and tires as well as drive and exhaust-gas aftertreatment technologies, conveyor belts, vibration and hose technology, air spring systems, and interior materials. Continental presented a selection from its portfolio at bauma in Munich. "We are therefore contributing to safe, efficient, clean and comfortable mobility outside the automotive sector as well and offering solutions tailored to our customers' individual needs – all from a single source," adds Hans-Jürgen Duensing, member of the Continental Executive Board, who used this year's visit at bauma for on-site talks.
Greater safety for off-highway vehicles and machines
Thanks to a new telematics solution, fleet managers, drivers and maintenance teams are always informed about relevant tire-related data. In combination with the tire pressure monitoring system, the solution facilitates the efficient management of vehicle fleets. On a central server, information is collected, made available and transmitted.
The system informs the user when the tire pressure has to be corrected, for example. Vehicle downtimes are thus reduced as the danger of tire damage is minimized, and the outlay for regular, time-consuming maintenance work is lessened. The right choice of tire also makes a significant contribution to vehicle safety. Continental has a comprehensive range of pneumatic and solid tires for the various areas of application. Heavy devices and tractor units such as pickups, road construction equipment, tractors or combines also move safely on rubber tracks.
In addition, integrated and retrofittable camera systems enable 360-degree monitoring of the vehicles. Vibration isolation and noise reduction products damp vibrations and structure-borne noise, isolate machinery oscillation, and noticeably increase ride comfort. Components can be safely lifted, powered and controlled using high-pressure hydraulic hoses. Electrically conductive fuel hoses ensure a reliable media supply.
Efficient work and transport
With its wide variety of instrumentation solutions that range from the dial-type gauge to the fully programmable 12-in. terminal, Continental is following the trend toward connected vehicles that make drivers' lives considerably easier by displaying information clearly. The display and terminal solutions improve everyday working life, from maneuvering on the construction site to the targeted management of agricultural areas. An on-board telematics unit transmits data from and to the vehicle. This sees Continental play a supporting role in saving time and making work more efficient. Furthermore, when it comes to machinery leasing, data about the duration and place of use can be stored for billing purposes.
The conveyor belt solutions for transporting goods – including products for steep-incline conveying, closed belt systems, heat-resistant conveyor belts, and lightweight PVC belts – are reliable, cost-effective, and environmentally friendly. Air springs also offer potential in the off-highway sector. For example, they can be used in situations where contact pressure needs to be generated. Continental has also designed its drive belts for the off-highway sector to be able to cope with dynamic power transmission at extreme stress under full load. For example, they perform impressively well in earth-moving or agricultural machines thanks to their energy efficiency, zero-maintenance requirements, long service life, and high level of reliability.
Clean mobility and enhanced comfort
Manufacturers are using high-activity catalytic converters and efficient SCR systems to ensure low emissions. To meet the high legal requirements in the future as well, Continental offers emissions-relevant modules of the engine and exhaust system control unit, fuel injection technology, sensors, SCR systems and injectors, catalytic converters, filters, tanks, and hoses, not to mention software and engineering. Additional particulate filters, or combination filters with an SCR coating to remove the nitrogen oxide, are used for this purpose for Stage V of exhaust system cleaning as applicable for engines from 130-560 kW from 2019 onward.
Whether in construction or agricultural machines or cranes, manufacturers are equipping the cabins of their vehicles and machines with increasingly high-quality fittings and placing a growing emphasis on the highest possible level of comfort. The modular design of Continental's driver workstation ensures an extremely flexible, user-friendly workstation with fittings that can be adapted for numerous applications and customer requirements. All switches are positioned within reach, while overhead switches can also be replaced by additional panels, if required. The cockpit fittings can therefore be as minimalist or as high-end as desired. Sleeve air springs also increase comfort in the driver's seat. Surface materials for the interior of off-highway vehicles withstand the tough conditions of an average working day on a construction site or agricultural land. Particularly scratch-resistant materials and products with easy-to-clean soft-touch surfaces are available.