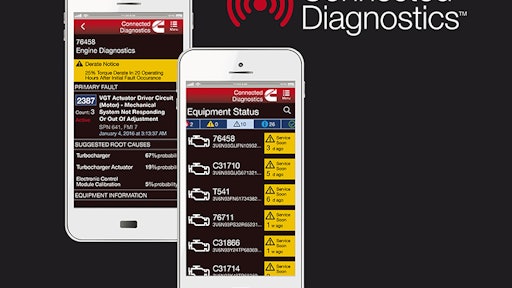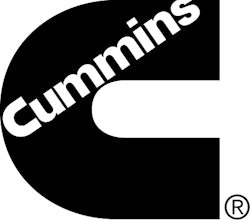 Cummins Inc. has introduce Connected Diagnostics to the off-highway market at bauma 2016, running through April 17. Active in over 35,000 on-highway vehicles today, and soon to be available for off-highway equipment, Connected Diagnostics provides a lifeline for customers, direct to Cummins, when they need it most.
Through an active telematics connection, Cummins-powered equipment can now wirelessly connect the engine to Cummins for immediate diagnosis of an engine system fault alert, and have valuable information delivered to the customer within seconds. The Connected Diagnostics notification can be instantly delivered to anyone the customer specifies, including customer equipment management, company leadership and equipment operators, through e-mail notification or the Connected Diagnostics mobile app.
In a clear, easy-to-understand format, Connected Diagnostics notifications are instantly sent to the customer within seconds of a fault code occurring. These notifications identify and prioritize the fault codes and provide a clear recommendation of the action to take based on the primary engine system fault, outlining the most probable root cause and identifying any impacts to performance. A link to the Cummins-certified service providers in the area makes finding support fast and easy. The priority level assigned to the fault clearly advises whether immediate action is needed or how long the equipment can continue working before the fault will impact operation of the equipment.
The Connected Diagnostics mobile app extends the reach of Connected Diagnostics by allowing customer management or operators to receive notifications direct from Cummins to their Apple or Android mobile phone or tablet, providing valuable insights into engine system faults and expert operational recommendations, regardless of location. This information enables instant decisions to be made on the most appropriate course of action, thus maximizing equipment productivity and reducing downtime.
Connected Diagnostics moves ahead of other engine diagnostic and telematics solutions with its intuitive capability and Cummins expert guidance. When a fault occurs, the system utilizes Cummins Expert Diagnostics System to instantly search for similar fault code events across the engine model in-service population, and identifies the most probable root causes. The Expert Diagnostic System is continually updated by ongoing repair events undertaken by Cummins-certified service technicians working around the globe, creating smarter troubleshooting trees that can reduce the number of diagnostic steps by up to 50%.
Chris Brown, Director - Cummins Off-Highway Customer Support, says, "We are really excited by the ability of Connected Diagnostics to support operators and rental companies by providing proactive steps to minimize their equipment downtime and reduce their service costs. Cummins has considerable experience in the off-highway market, which allows us to develop a customer support tool to fit the diverse off-highway engine requirements. With this system, Cummins is responding to the need to convert engine data into instantly usable and service actionable information for our customers."
Nearly every Cummins electronic engine is fully compatible with Connected Diagnostics and only requires an active telematics device, installed in the equipment, to transmit data to Cummins for automated analysis and reporting. Connected Diagnostics is applicable to all types of construction, mining and materials-handling equipment powered by the Cummins engines of 3.8 L and larger.
By October 2016, Cummins will launch Connected Diagnostics into the North American and European off-highway markets as compatible telematics service partners become integrated. The Connected Diagnostics mobile app will also be available for existing Connected Diagnostics customers to download from the App Store and Google Play.