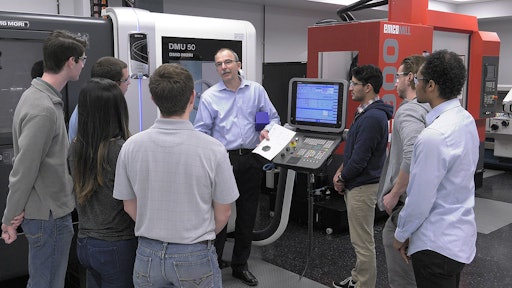 Siemens Corp.
In February 2017, Siemens announced the launch of its Lifelong Educational Advantage Program (L.E.A.P.) with the aim of offering workforce development training to secondary and technical schools across the U.S. Through the program the company will provide educational institutions with the tools to teach students the skills necessary for a career as a CNC (Computer Numerical Control) machinist.
Brian Hamilton, L.E.A.P. Program Manager at Siemens, says for several years the Siemens Cooperates with Education program has provided workforce development for PLCs (Programmable Logic Controller). As the current manufacturing workforce begins to age and leave for retirement, the industry is struggling to find skilled replacements, which is why Siemens decided to expand its training efforts. "We have a lot of large companies out there clamoring for people that know the Siemens Sinumerik control, and can go in working on it [right away]," he says. "We decided to develop this program so that companies out there could actually have an educated workforce."
He notes that Siemens' control technology is used by numerous machine tool manufacturers, helping lead the company to its decision to work directly with schools to offer certification.
How the program works
To take part in L.E.A.P., a school simply needs to sign up for the program and own a machine tool with a Siemens control, and Siemens will provide all of the necessary course materials and documentation. It will also train the instructors on how to set up, operate and program a CNC machine equipped with Siemens' control product so that they are also certified and better able to teach and certify the students on how to work with the machinery. Once a school is signed up with the program, it also receives deep discounts on Siemens products.
The CNC machinist training consists of two machine tool disciplines—one for milling and the other turning. Each one is divided into different educational levels to provide basic to advanced competencies. Milling includes a total of three levels; the first, says Hamilton, is a conversational program called Shop-Mill. This is an introductory level, he explains, providing an easy way for students to get into CNC without needing a lot of trigonometry or other high-level math skills. The following two levels advance upon the introductory one offering training in G-code programming and then five-axis programming.
Two training levels are included in the turning discipline—an introductory level called Shop-Turn and the advanced level, Shop-Turn programGUIDE.
A key element of the training program is the use of Siemens' SinuTrain PC-based software. Hamilton says it is an engineering software used by the company's engineers to help customers troubleshoot machine issues. For L.E.A.P., it provides students a tool with which to learn how to program CNC machines.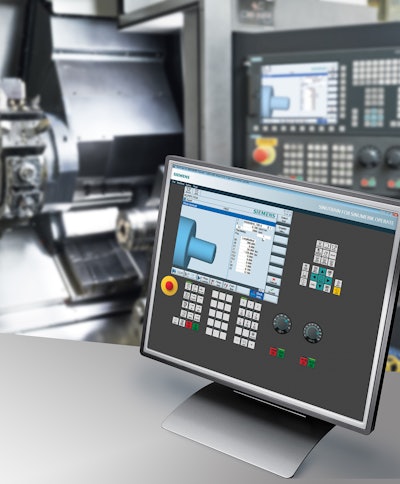 Siemens offers the program to the schools at a discounted rate; students can purchase a full product version in the student store also at a discounted rate, allowing them to install it on their home PCs so they can practice programming the machine, and easily transfer files back and forth via a USB stick. "The students can program the machine, do everything at home, proving out their program before running it on the CNC machine," says Hamilton. "It's very graphically advanced so they can see the product after it's done. They simulate it, see what it looks like, take it in [to the classroom] and run the product right off the bat, so it really streamlines the whole process."
He says the ability to take the software home is beneficial to the students; all of the course material is included within the software package, enabling students to walk themselves step-by-step through the course at a pace that works best for them. Additionally, Siemens has various webinars available to take students through the process of using the software, programming a machine, and more. "We have a lot of tools that are available for the educator with the SinuTrain package that helps them when they're not lecturing," says Hamilton. The available webinars, tutorials and other tools make it easy and available to everyone.
Hamilton says the main difference between L.E.A.P. and other similar programs out there is that Siemens offers it free of charge to educational institutions. "This is something we're doing as a service to the community and the institution; they can offer something that no one else is offering." He says the company has spent a lot of time to provide institutions with hands-on training and support to enable them to certify their students. "We're really looking for students that are out there and can say 'I have a Siemens certification, I can come to work for you, I know the control, I know how to operate the machine.' It's a value added not only to the manufacturing community but also the educational community. That's where the big difference is."
Besides helping to educate the next generation of CNC machinists, Hamilton says participating in an educational program such as L.E.A.P. is beneficial to Siemens, as well. As people learn how to work with the company's technology, they become more familiar with it, and he says what people know and learn to use and like they tend to purchase in the future.
Signs of a positive impact
In its first year, Siemens had nine schools taking part in L.E.A.P. This year there are 17 additional educational institutions involved with the program, including universities and community colleges. "It's been a great success," says Hamilton, as the schools enjoy the accreditation its instructors and students receive. 
He adds that Georgia Technology, one of the participating universities, plans to put about 900 students through the program in the coming year. Auburn University will begin teaching students how to program as well as commission machines from an engineering standpoint as part of its partnership with L.E.A.P.
In addition, Hamilton says more K-12 schools are getting back into offering manufacturing education. As such, some have started to partner with L.E.A.P., as well. One of Hamilton's goals is to get parents into the high schools and colleges to also educate them about how manufacturing has changed. It is no longer being considered a 'dirty' job, but instead one that has become very high tech, takes a lot of knowledge and skill.