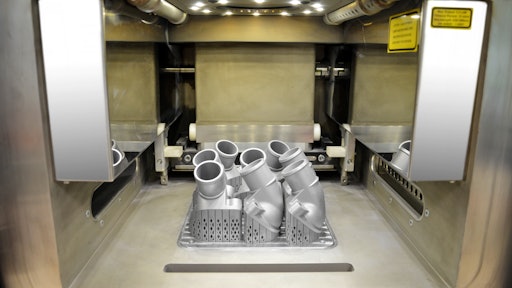 Mercedes-Benz Trucks has taken 3D printing a stage further: the first printed spare part made of metal, a thermostat cover for truck and Unimog models from older model series, has passed all the stages of the stringent quality assurance process at Mercedes-Benz smoothly, and is now celebrating its premiere. This means that Mercedes-Benz Trucks is now the technological leader in the challenging segment of cutting-edge 3D printing processes for metal components.
"With the introduction of 3D metal printing technology, Mercedes-Benz Trucks is reasserting its pioneering role among global commercial vehicle manufacturers," says Andreas Deuschle, Head of Marketing & Operations in Customer Services & Parts at Mercedes-Benz Trucks. "We ensure the same functionality, reliability, durability and cost-effectiveness with 3D metal parts as we do with conventionally produced parts."
In the Customer Services & Parts division of Mercedes-Benz Trucks, automotive 3D printing began its increasing success in the production departments for the after-sales and replacement parts business a year ago. Since then, Customer Services & Parts has worked together with the researchers and pre-developers at Daimler AG to constantly improve and expand the use of the latest 3D printing processes for plastic parts. 3D printing of high-quality plastic components has now successfully established itself as an additional production method, and is particularly suitable for the production of smaller batches.
Metal parts in the latest 3D technology open up new possibilities
Metal parts from the 3D printer excel with their very high strength and thermal resistance, and the process is therefore particularly suitable for the production of mechanically and thermally stressed components required in small numbers. Metallic components can be produced "at the touch of a button" with any geometry and in any numbers. 3D replacement parts production began with rarely ordered aluminium parts. These excel with almost 100% density and greater purity than conventional die-cast aluminium parts. Apart from their high strength and hardness, as well as high dynamic resistance, their production requires no cost-intensive development work or procurement of special tools. Conceivable areas of use are peripheral engine parts made of metal, in-engine parts and also parts in cooling systems, transmissions, axles or chassis. Especially when they have complex structures, 3D-printed metal parts in small numbers can be produced cost-effectively as infrequently requested replacement parts, special parts and for small and classic model series.
"The availability of spare parts during a workshop visit is essential for our customers – no matter how old the truck is, or where it is located. The particular added value of 3D printing technology is that it considerably increases speed and flexibility, especially when producing spare and special parts. This gives us completely new possibilities for offering our customers spare parts rapidly and at attractive prices, even long after series production has ceased," Deuschle concludes. In the future, 3D metal printing might allow decentralised and therefore much faster, local production directly in the worldwide Mercedes-Benz production locations. This would further improve parts availability: expensive warehousing and the associated, complex transport processes would be unnecessary, with delivery times made shorter for customers.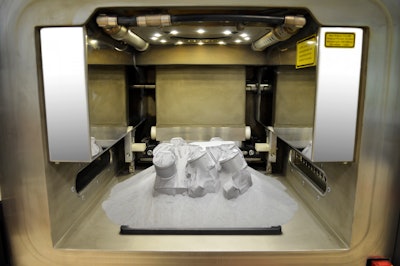 Rapid global availability even after many years
The new thermostat cover is an example of cost-effective spare and special parts production in top quality, made possible by use of the 3D printing process for highly resistant metal parts made of die-cast aluminium alloy. This replacement part is only ordered in small numbers, and is used in older truck and Unimog models whose production ceased around 15 years ago. This example shows that Customer Services & Parts is able to produce and offer components that are no longer installed in current series production vehicles, or are only produced in very small batches as special customer requests, at a reasonable cost. Thanks to advancing digitisation, even highly specific metal components can be ordered from Mercedes-Benz Trucks and delivered anywhere in the world on request, even after many years: quickly, cost-effectively, in requisite numbers and in consistently high OEM quality.
In contrast to the Selective Laser Sintering (SLS) used in the plastics sector, 3D printing of metallic components uses Selective Laser Melting (SLM). In the case of the thermostat cover, for example, the powdered aluminium/silicon material (ALSi10Mg) is applied in individual layers and melted by an energy source — usually one or more lasers. When one layer is completed, a new layer of powder is applied automatically and the melting process is repeated. The process is repeated until a high-strength, three-dimensional aluminium component suitable for use in areas of high temperature has been produced. Thanks to the layered structure, the process also offers a level of geometrical freedom that cannot be matched by any other production method.
Companies in this article