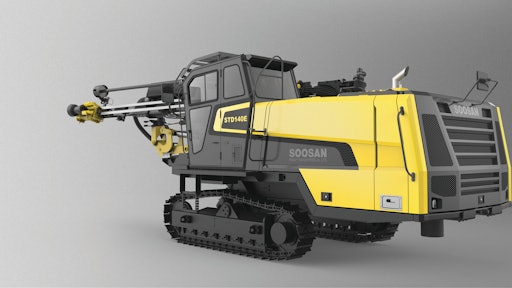 See all of the Red Dot 2018 Product Design winners for the Commercial Vehicle category at oemoh.com/RedDot2018_CV.
HMK 145 LC SR Excavator
Manufacturer

:

Hidromek, Ankara, Turkey
In-house Design

:

Hidromek

Design Studio
When designing the HMK 145 LC SR crawler excavator, focus was placed on configuring the cabin so the driver will feel as relaxed and comfortable as he would be sitting in an office. To this end, the workplace was fitted with the Opera control system, which assists in operating. The compact excavator thus offers well-conceived ergonomics comparable to that of a heavy machine. The air conditioning is located at a special position that makes maintenance easy, and the tilting cabin offers quick access to the hydraulic system.
"This crawler excavator gains merit with its highly developed ergonomics and well-thought-out solutions for an uncomplicated maintenance of hydraulics and air conditioning."
---
HMK 60 CR

Excavator
Manufacturer

:

Hidromek,

Ankara, Turkey
In-house Design

:

Hidromek

Design Studio
The HMK 60 CR is a crawler excavator that offers a particularly ergonomic workplace. The Opera control system integrates all operating functions so that they are easily accessible at any time. The location of the operating console is well considered, and a high-definition, color TFT display provides all important information in bundled form. In addition, electronic control devices assist in driving the excavator. A multifunctional holder at the side of the cabin has a sliding function and is thus always within reach. The cabin is tiltable and enables quick access to the hydraulics.
"The HMK 60 CR crawler excavator combines a compact and functional design with a high level of user-friendliness in the driver's cabin."
---
Tiger 6

Beet Harvester
Manufacturer

:

ROPA Fahrzeug- und Maschinenbau GmbH, Herrngiersdorf, Germany
In-house design

:

Carolin Paintner
Design

:

Dialogform GmbH, Taufkirchen, Germany
The Tiger 6 with 768 hp is an extremely powerful and technically complex beet harvester. The panorama cabin offers good sight lines and with its well-considered arrangement of operating and display elements is user friendly. Owing to automatic slope compensation and roll stabilization, the innovative chassis hydraulics enable maneuverable, soil-protective movement in the field even with a full payload. The transport of the beets using star sieves and belts is open and has a function-oriented design.
"The powerful appearance of the Tiger 6 indicates the technical complexity of this beet harvester, while the ergonomically designed driver's workplace facilitates control of the machine."
---
TX3

Counterbalance Forklift
Manufacturer

:

UniCarriers Europe AB, Mölnlycke, Sweden
The new TX Series is characterized by its energy efficiency, safety and functional design. The TX chassis has been carefully tailored to the driver and offers ergonomics and comfort. The special design of the mast and protective roof with slim-lined pillars contributes to strongly improved visibility. For better sight of fork and load, the instrument panel has been reduced to a minimum and parts of the operating panel are transparent. Seat, pedals and the narrow steering column are situated such that they provide lots of legroom.
"With a design which is accurate in every detail and in which visibility is optimized, the counterbalance forklift of the TX Series offers the driver an enhanced degree of comfort and safety."
---
Manufacturer

:

Valtra Inc.,

AGCO Corporation, Suolahti, Finland
In-house Design

:

Kimmo Wihinen
The Valtra A4 tractor combines cost efficiency with ergonomics and performance. It is designed for use in harsh climates and can perform just as well on frozen ground or in extreme heat. It is thus suitable for places where high-performance tractors are needed, but where the purchase of expensive agricultural machinery cannot be afforded. The technical features of the Valtra A4 may be adapted to the customer's requirements, and it is available in 10 different colors.
"This tractor is characterized by its cost efficiency and by the fact that it adjusts flexibly to any of its areas of applications."
---
The IDEAL Combine

Harvester
Manufacturer

:

AGCO

International GmbH, Neuhausen am Rheinfall, Switzerland
In-house design

:

AGCO

International GmbH
Working with a combine harvester places high demands on both man and machine, with efficiency and effectiveness playing a central role. The IDEAL combine, available for Massey Ferguson and Fendt brands, is a completely new product designed from a "blank sheet of paper." In addition to full connectivity, the machine offers a complete and automated adjustment to the existing harvesting conditions. Particularly pioneering is the visualization of the real-time crop flow, enabling the driver to get an accurate overview of the current harvesting performance. At the heart of this innovative and highly functional combine harvester is an extremely efficient threshing and separating system. It optimizes the performance in terms of grain and straw quality, grain handling, power efficiency, as well as the capacity in a wide variety of conditions. The IDEAL combine offers a safe and intuitive ease of use even with complex harvesting operations. Based on a concept of sophisticated ergonomics, it provides drivers with an outstandingly comfortable working environment, including a generously designed cabin with huge windows for excellent all-round visibility. This combine harvester impresses with an elegant design language that is further underlined by a high-quality graphite livery. Showcasing a narrow body, the clear lines impressively visualize the high performance it delivers. Realizing a highly ambitious approach, the design of the IDEAL combine harvester manages to lend farming machines a striking new aesthetic.
"This high-performance combine harvester features a groundbreaking, sophisticated design that is optimally oriented towards future requirements. Its dynamic form language is emotionalizing and lends it a strikingly elegant appearance. Also fascinating is the advanced ergonomic design of the driver's cabin with excellent all-round visibility. The IDEAL combine is extremely comfortable in use, very powerful and efficient."
---
BT Reflex E-Series

Reach Truck with Tilting Cab
Manufacturer

:

Toyota Material Handling Europe, Mjölby, Sweden
In-house design

:

Magnus Oliveira Andersson, Mattias Nilsson
In modern logistics, reach trucks are often at the heart of effective processes. The innovative reach trucks of the BT Reflex E-Series impress above all with their functional and ergonomic tilting cab. This marks their clear style and, harmoniously complemented by a transparent roof, lends them an exclusive design appearance. In combination with the specially developed mast, this reach truck thus offers drivers excellent visibility of the load at all times in any situation and provides high stability of the truck in high-level applications of up to 13 m (42.7 ft.). The reach truck is therefore highly effective and comfortable in daily use. In addition, this also reduces the risk of strain for the driver, making logistic tasks and processes easier and overall safer. The clear, streamlined design of the BT Reflex was developed according to the "kaizen" principle of continuous improvement with a user-oriented focus. Another important aspect of the resulting sophisticated ergonomics of the truck is that it allows full individual adjustment of the seat, floor plate, controls and the steering console individually to any driver height. The comfortable interior follows a well-thought-out concept with neutral colors, while the design of the seat with its appealing and resistant fabric projects a friendly work atmosphere.
"The reach trucks of the BT Reflex E-Series impress with a harmonious design that makes all details complement each other in perfect harmony. Based on a well-thought-out functionality, this reach truck guarantees transport performance of the highest standard and allows work to be carried out effectively even in high-level applications. Developed with a sharp conceptual focus on its users, the truck has emerged with mature ergonomics offering a high level of comfort for the driver and outstanding performance."
---
See all of the Red Dot 2018 Product Design winners for the Vehicle Accessories category at oemoh.com/RedDot2018_VA.
Manufacturer

:

Siemens AG, Nuremberg, Germany
In-house design

:

Stephan Hühne
Design

:

at-design GbR, Christoph Tomczak, Fürth, Germany
The new Elfa3 devices are bus converters which can be combined with various drives and are compatible with both hybrid and purely electric buses. Furthermore, they are suitable for modular use in vehicles from 9-24 m (29.5-78.7 ft.) in length. Elfa3 regulates the power output and in the same way controls energy recovery. With the protection class IP6K9K, the converters are designed to be suitable for demanding environments in the utility vehicle domain. They combine innovative, extremely compact construction with high-power density.
"With its modular concept, these bus converters can be adopted efficiently and flexibly for various types of buses. They also help to reduce exhaust and noise emissions."
---
CRRC TP5 Driveline Assembly
Manufacturer

:

Hunan CRRC Times Electric Vehicle Co., Ltd., Zhuzhou, China
In-house design

:

Guangdi Tang; Jielin Zhou
Design

:

Nova Design, Yuzhong Shen; Weizhi Sun, Shanghai, China
The new generation of the TP5 Driveline Assembly electric drive system combines various modules such as motor, reduction gears or actuator and can thus be installed in various types of vehicles, for instance plug-in or purely electric buses. Furthermore, the construction featuring an aluminium frame and a polygonal carbon-fiber housing, as well as the integration of the different modules, leads to a weight reduction of 35%. The system is easy to install and maintain.
"Due to its special, integrated construction, the drive system TP5 Driveline Assembly is not only user friendly but also lightweight."
---
CRRC TP5 Controller Assembly
Manufacturer

:

Hunan CRRC Times Electric Vehicle Co., Ltd., Zhuzhou, China
In-house design

:

Guangdi Tang; Jielin Zhou
Design

:

Nova Design, Yuzhong Shen; Weizhi Sun, Shanghai, China
The TP5 Controller Assembly is the fifth generation of an electric drive system for vehicles with a new kind of energy drive. The innovative all-in-one concept integrates electrotechnical components and is suitable for plug-in hybrid or electrically driven buses that are 6-12 m (19.7-39.4 ft.) long. The system platform offers centralized control, contains modularized key components and is easy to maintain. High-speed trains served as inspiration for the material and the polygonal profile.
"With its dynamic shape and sophisticated functionality, this electric drive system helps buses to run in an energy-saving, environmentally friendly way, without much outlay."
Companies in this article