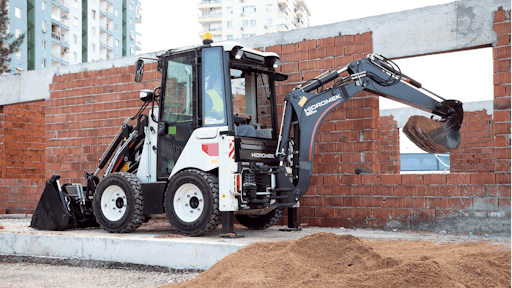 CONEXPO 2020 will bring the global construction equipment sector together and introduce the latest products, equipment and services. As such, HİDROMEK plans to exhibit several machines during the show; the company continues to focus on increasing its market share and strengthening its brand awareness and presence in North America.
HİDROMEK will exhibit its HMK 62 SS mini backhoe loader, HMK 102 B ALPHA backhoe loader, HMK 230 LC crawler excavator, HMK 600 MG motor grader, HMK 640 WL wheel loader and HMK 110 CS soil compactor. 
HİDROMEK BACKHOE LOADERS INCREASE EFFICIENCY
HİDROMEK backhoe loaders, produced with advanced technology and having a strong breakout force, increase the efficiency with their high performance by providing less fuel consumption. While providing easy operation and high level comfort with their wide rear view and ergonomic working environment, HİDROMEK backhoe loaders increase load carrying capacity and durability due to their heavy-duty axles.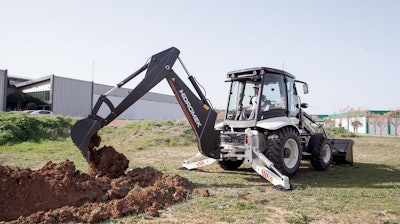 NEW H4 SERIES IS FASTER, MORE PRODUCTIVE AND MORE EFFICIENT
HMK 230 LC, equipped with advanced technology, belongs to H4 Series. Offering high performance, HİDROMEK's new H4 Series excavators stand out with their operating speed. H4 Series excavators produced to be faster, more productive and more efficient with their developed hydraulic system design produce more work with less fuel. Therefore, HİDROMEK excavators are more profitable and efficient than ever.
During the design process with the aim of rendering the use of the machine easier for the operator, H4 Series has an electronic system with an increased capacity facilitating to find out the condition of the machine and its integration with additional equipment. H4 cabins are designed and built to offer maximum safety and durability under ROPS & FOPS standards. The red handles and warning labels on the new series of the machines are designed to increase the operator's safety to the highest level. H4 Series giving particular importance to work safety enhance great visibility by reducing blind spots to minimum with the right side and rear cameras. In addition, due to LED headlamps on H4 Series excavators, night vision capacity is significantly improved.
EASY OPERATION AND MAXIMUM PERFORMANCE WITH HMK 600 MG
HMK 600 MG motor grader, manufactured in 18 ton class, provides high traction even at low torques and offers low fuel consumption through its Mercedes (MTU) engine. Allowing the operator to have a wide view of the blade and the front wheels, HMK 600 MG enables safe and easy operation by being controlled both by the steering wheel and by the joystick and wide viewing angle of the hexagonal cab. HMK 600 MG motor grader, which has won international awards such as Reddot Award, German Design Award and Good Design Award, is preferred for many applications ranging from leveling and digging to bank cutting, trenching, and snow ploughing.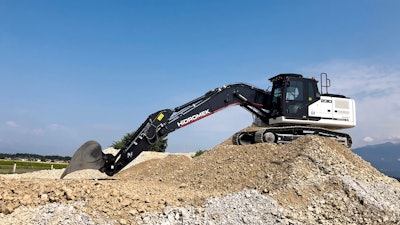 MORE LOAD IN SHORT TIME WITH HMK 640 WL
HMK 640 WL, which has 26.3 tons operating weight and 4.2 m³ bucket capacity, with its Mercedes engine having 324 HP and 1600 Nm torque provides its user with high loading capacity at low fuel consumption in a short cycle time. HMK 640 WL heavy-duty loader provides high breakout force and excellent control capability. It offers durability and efficiency for many years with its axles and components specifically used for high demanding working conditions. With its ergonomic operator cabin with ROPS/FOPS certificates, comfort and high security are prioritize. Furthermore, it provides easy serviceability with its 35 degree tilting cabin feature. HMK 640 WL wheel loader, which has won international design awards such as Red Dot Award, German Design Award, Good Design and Automotive Brand Contest, is frequently used in mining and quarry operations, concrete plants and industrial applications.
HMK 110 CS PROVIDE MAXIMUM VERSATILITY AND PERFORMANCE
HMK 110 CS soil compactor, which is versatile machinery, can be used in many applications such as utilities, road construction works and construction site preparation of large residential areas. High quality components produced by HİDROMEK's robust steel construction experience are used on the compactors. HMK110 CS provides quality and durability with its strong chassis. HİDROMEK soil compactors, ensuring maximum availability through versatile works, allow you to operate efficiently with high performance.