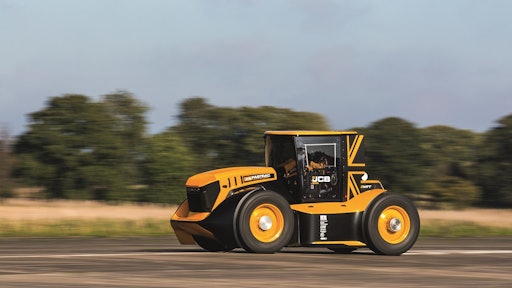 JCB's Fastrack was recently named the world's fastest tractor. The Fastrac Two achieved a peak speed of 153.771 mph (247.470 kph), and an average speed of 135.191 mph (217.569 kph).
This was the second vehicle JCB designed to break speed records. Earlier in 2019 its Fastrac One broke the British speed record at 103.6 mph (166.7 kph). The Fastrac Two was designed specifically to break the world record.
Engineers at the company used knowledge from the first machine to aid in development of the Fastrac Two. Both versions are based on a standard commercially available Fastrac. Over 50% of the components used are standard Fastrac parts.
The Fastrac Two uses a JCB 7.2 L Dieselmax engine which provided the machine with more horsepower. In addition, the machine was made to be 10% lighter and more streamlined in its styling to improve aerodynamics—both of which aided in the ability to travel at faster speeds.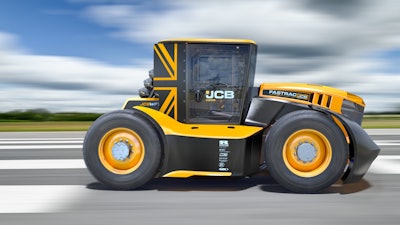 Improved design enables faster speeds
To create a more streamlined machine, JCB enlisted Williams Advanced Engineering to conduct aerodynamic analysis and development. Computational fluid dynamics (CFD) was used as well. Overall the team was able to create a machine with a 10% reduction in drag compared to the Fastrac One.
The Fastrac's standard cab was lowered 200 mm (7.9 in.) and narrowed by 300 mm (11.8 in.). The entire machine was made 200 mm lower. Further aerodynamic improvements were achieved through the development of new cab air deflectors and the addition of a front splitter, belly plate and rear diffuser.
JCB increased the Fastrac Two's power capabilities by fitting a 6-cylinder, 284 hp (211.8 kW) JCB 672 engine with over 1,016 hp (757.6 kW) and 2,500 Nm (1,843.9 ft.-lb.) of torque. A hybrid boost system aids performance by providing a 350% increase in airflow; the system also features a larger turbo and electrically driven supercharger.
Overall the new machine design was given a 230% increase in boost pressure and 165% increase in engine speed to 3,300 rpm. A large 2,500 bar (36,259.4 psi) fuel pump, larger inlet manifolds and ice water charged air cooler were added to the machine to aid power improvements. Water injection is used to cool combustion and aid piston cooling, ensuring a high level of performance can be achieved without ruining components.
Weight reductions were a key factor in achieving the speed increases, as well. The company needed to reduce the standard weight of a Fastrac from over 8.5 tonnes to around 5 tonnes. JCB was able to make the Fastrac Two 3,500 kg (7716.2 lbs.) lighter by using aluminum panels instead of steel, as well as GRP and carbon fiber bodywork.
A lighter chassis and suspension was also developed. The weight of the chassis went from 750 kg to 480 kg (1,653.5 to 1,058.2 lbs.). The suspension was built using aluminum once again for the axle covers and hub reduction gears were removed. Use of lithium batteries aided weight reductions, as well.
Safety was a major factor that needed to be taken into consideration when designing the Fastrac Two. JCB designed and manufactured a roll cage to ensure maximum protection of the operator. A challenge was the roll cage did not fit into conventional FIA categories, requiring JCB to work with FIA—one of the largest motorsport governing boards in the world—to ensure the safety of its roll cage design. The FIA approved design is tied into the chassis.
Components aiding control and stability also needed to be developed to ensure safety. This included the development of new tires for the machine featuring sensors to monitor heat and vibration in real-time. JCB says a standard Fastrac suspension and steering geometry were coupled with optimized spring and damping rates to provide a precise, controllable ride.
Industry partnerships aid design efforts
JCB worked with several industry partners to create the Fastrac Two. For the tires it collaborated with BKT which specially designed a tire capable of withstanding high speeds in excess of 150 mph (241 kph). BKT says it worked closely with JCB's engineering team to create the tires.
The tire developed is a specially constructed 400/80 R 28 RIDEMAX IT 696, based on a tire usually found in industrial applications and capable of speeds of up to 65 kph on paved surfaces. Tread blocks on the newly designed tire were reduced in height from 27 mm (1.06 in.) to just 10 mm (0.39 in.) to improve stability and reduce unwanted movement. The carcass was reshaped to be smaller and narrower, improving aerodynamics. This also enabled two additional steel belts to be integrated into the tire for increased rigidity. This also prevented the tire from generating excessive heat and stopped tire growth at high rotational speeds.
More natural rubber was used to create the tire, as well, in order to further improve grip.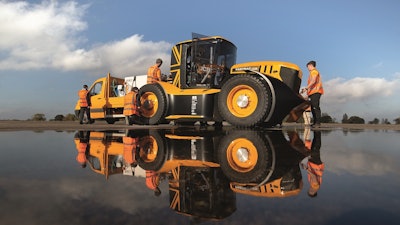 "BKT's goal for this world record was to use a tire that already existed in our product range and to apply our know-how to adapt it for the extreme operating conditions confronted by a 5-tonne tractor producing over 1,000 hp (745.7 kW)," says Dilip Vaidya, BKT President and Director of Technology. "This is why we have chosen RIDEMAX IT 696. It is an ideal tire for industrial applications, with a tread pattern that is suited for paved roads. Without changing the tread design, we have focused on the casing structure and its compounds, so that the end product could withstand the enormous stresses imposed by ultra-high speeds achieved by JCB's record-breaking tractor. Extensive testing and development - in close co-operation with JCB - allowed us to reach an extraordinary technical achievement."
To accommodate the new tires and other requirements of the Fastrac Two, GKN Wheels & Structures developed a 12 x 28 in. (304.8 x 711.2 mm) wheel. It also created new discs and rims. Paul Turner, Design Engineer at GKN Wheels & Structures, says, "The initial remit was to provide standard wheels to fit standard tires. However, this changed during the development program, and called for tighter tolerances in the run out requirements. The combination of the size change, offset requirements and highest possible quality standards, drove the final product specification for this project."
GKN also aided in the development of the Fastrac Two's new lightweight chassis. JCB provided the initial design, based on the standard tractor chassis which GKN Structures has been supplying since 2011, but re-designed to provide a much lower center of gravity. Following early trials, the company was then tasked with delivering additional weight savings, with the chassis ultimately weighing-in nearly 25% lighter than the standard production unit.
GKN says that because of the chassis' unique design, it could not be built on the company's usual tooling. It was manufactured in GKN Structures' dedicated prototype facility, with every part having to be hand set and tacked prior to welding by hand.
"Although out of the ordinary, this project demonstrated the benefits of true collaboration, with a number of different manufacturers, each experts in their own field, coming together to achieve something quite extraordinary," says Jamie Dobson, Manufacturing Engineer at GKN Wheels & Structures.
Ricardo was another company which collaborated with JCB on the design of the Fastrac Two. It utilized several digitalization methods to maximize performance and efficiency including virtual reality for design reviews. Creation of a virtual wind tunnel enabled the various engineering teams to collaborate remotely on aerodynamic optimization—the key focus being identification of areas where work was necessary to avoid generating significant drag.
Aerodynamic optimization was further enabled by Ricardo's suite of proprietary virtual product development tools. Ricardo VECTIS software was used to perform CFD simulations of the external skin of the tractor. Further advanced software tools also used included Ricardo's IGNITE powertrain optimization software and WAVE gas dynamics simulation package for air system development. Routinely used to optimize products for customers, these software products enabled the Ricardo team to develop the JCB engine to meet the power and torque targets for the project.
One way the Ricardo engineers did this was by selecting a turbocharger that delivered a pressure ratio of ~5:1, while taking steps to improve the turbo lag that might otherwise be expected of such a large single-stage turbo. An air pulse system gives the turbocharger an extra 'kick' of energy to spool it up quickly as the vehicle accelerates through the gears which is crucial in achieving high speeds over the comparatively short distance available on the runway.
Ricardo says the record-breaking performance of the Fastrac engine was achieved by incorporating technologies which are essential for low emissions, high fuel efficiency and high power-density engines. Advanced control, high-pressure common-rail fuel injection and advanced boosting (air pulse and electric supercharger) systems are instrumental in the very low level of emissions achieved by current and future engines.
Visit Ricardo's website to view an interactive graphic of the various technologies it provided for the Fastrac Two.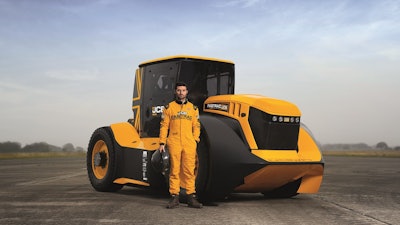 Completing a world record
JCB says it completed rigorous and extensive testing for the Fastrac Two. Five months of engine and machine development included engine test rigs, virtual testing and finite element analysis (FEA) of steel components. All aspects of the machine were evaluated to ensure performance and safety.
"The biggest challenges have included aerodynamics, reducing weight and improving performance – getting a five-tonne tractor to safely reach 150mph, and stop again, is not an easy task, but we're all so proud to have not only reached these goals, but to have exceeded them," says JCB Chief Innovation and Growth Officer Tim Burnhope.
JCB completed both of its record-breaking speed trials at the Elvington Airfield near York, England. It has one of the longest runways in Britain, measuring 1.92 mi. (3.09 km). The record has been officially ratified by Guiness World Records.
"When we reached 103.6mph with the Fastrac in the summer, I was convinced we could go even faster, and the JCB team has risen to the challenge by setting this new record. It's an amazing achievement delivered by a young and enthusiastic engineering team. Everyone involved should be very proud of the part they have played in showing off British engineering at its very best," says JCB Chairman Lord Bamford.
Companies in this article