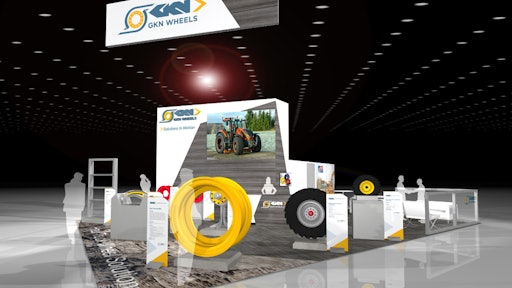 As a world leader in the design and manufacture of off-highway wheels for the construction, mining and forestry sectors, GKN Wheels & Structures will be displaying a range of its high-performance wheels at CONEXPO-CON/AGG 2020.
The company's construction and mining wheel range will be at the heart of the stand; the precision-engineered, multi-piece wheels having been developed specifically to meet construction and mining operators' needs for safety, productivity, durability and high payloads. 
GKN Wheels' multi-piece wheels are a tried and tested industry standard, with the company's lightweight three-piece wheel solutions designed to deliver robust, long-life performance. This combination of cost and performance has resulted in the three-piece wheel becoming the product of choice across much of the construction industry. Lighter and more stable than five-piece rims, these wheels enable safer tire mounting, as the driver is in place before the tire is inflated, which also protects the driver from external hazards.
GKN Wheels' standard five-piece wheels are designed for tubeless operation and feature a reinforced bead seat band and back section. Featuring an optimized lock ring design and a continuous tire pocket tool feature, these high specification, high quality wheels allow for ease of tire fitting on heavy-duty machinery. As material specification and integrity are critical in these operating environments, all products are rigorously tested and comply with relevant T&RA, ETRTO, JATMA and ISO standards.
Visitors to the show will also be able to see the company's innovative airless tire solution for skid steer loaders, which features a completely new wheel developed in partnership with Michelin. The Michelin Tweel is a single, fully integrated unit which replaces the traditional tire/wheel/valve assembly, and which delivers significant benefits for machines which typically operate in the most demanding and challenging environments. The use of Tweel completely eliminates the risk of punctures and so reduces down-time, improves efficiency and ultimately reduces the cost of ownership.
Specifically designed for the mining sector, GKN Wheels' patented Infini-Swift wheel, which is suitable for large wheel loaders, mining haul trucks, dozers and other specialist applications, will also be on display. Manufactured at its Mining Technology Center in Liuzhou, China, the Infini-Swift wheel, provides a unique and reassuring solution for heavy haul truck operators. Infini-Swift enables large mining tires to be removed without having to also remove the outer or inner wheel assembly arrangement (as would be required with a standard rim). The wheel is designed and tested to reduce the time taken to mount and de-mount large mining rims (57 up to 63 in.) by 50%, ensuring machine downtime is minimized and vehicle productivity is maximized.
In addition to its manufacturing bases in the USA, the United States is also home to GKN Wheels' global center of excellence for the testing and development of its products for the construction and mining sectors – including both wheels and hubs and spindles. The center, based in Woodridge, IL, can carry out wheel testing that simulates virtually any operating conditions, providing accurate performance data which is not only invaluable to customers, but also informs the company's manufacturing, development and investment plans.
Read more: Increased Testing Capabilities Enable Improved Product Optimization
Aaron Dahl, Chief Engineer Americas, says, "CONEXPO provides a great platform for us to showcase our solutions for construction and heavy-haul machines, as well as to talk about our experience and expertise in design and manufacturing.
"With a global footprint that includes six manufacturing plants across the United States, Europe, and China, we take pride in working closely with our customers to develop innovative wheel solutions that meet their needs, delivering real world solutions in motion.
"We are also incredibly proud of our long-established manufacturing and test facilities in the United States, and the high quality, high performance products and systems that we produce there. We very much look forward to meeting customers old and new at CONEXPO."
GKN will be located in the Central Hall at booth C23031. 
Companies in this article