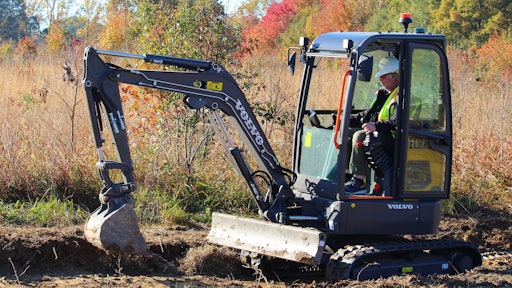 Volvo Construction Equipment
Whether you accept the potential role jobsite electrification could play in climate change mitigation or not, electric power is headed to a jobsite near you in one form or another, and is expected to continue to be an increasingly larger part of construction's future. But to what degree it will be fully implemented in the U.S. is uncertain.
"Electrification is coming," stated Carl Gustaf Goransson, a corporate senior advisor and former CNH Industrial executive, in a panel discussion hosted in early February by Ritchie Bros. He cited production models introduced in 2021 that are already in operation globally. "Machines are going to market and they are operating very well – good feedback from the customers, and they know they're meeting the regulations that are coming more and more."
Chris Sleight, managing director, Off-Highway Research, agreed, noting, "We've had a year of electric machines actually genuinely being available on the market. Call me cynical, but there is a big difference between walking around bauma or CONEXPO and seeing [units] on display. But we're genuinely seeing them in the market now.
"The numbers are small," he acknowledged. "You're talking about a global market of about 1.1 million to 1.2 million machines per year worldwide, and the number of electric machines sold in the world last year is at best 1,000 to 2,000."
But that could change rapidly. "The expected pace of electrified equipment in numbers is… not a huge thing," Goransson said. "But I think it's going to be."
A recent report by IDTechEX corroborates this, forecasting the global electric construction equipment market to grow to $105 billion by 2042. It notes that because construction equipment represents roughly 1.1% of global greenhouse gas emissions, it has drawn growing scrutiny in many countries. This scrutiny is already leading to regulatory changes in some regions targeted at decarbonization of non-road mobile machinery.
Starting Out Small
Of course, battery-electric power has been a solution for specific construction product segments (e.g., aerial lifts) for a number of years, but movement into other machine types has proven slow given the added complexities involved. Change frequently must start small and such has been the case with broader adoption of electrification.
Though there were early efforts in diesel-electric technology in full-size machines – for example, Caterpillar's D7E diesel-electric track-type tractor and Komatsu's Hybrid hydraulic excavators – the first battery-electric production models emerged in the compact equipment segment. With their lighter duty cycles, machines such as mini-excavators and compact wheel loaders have proven far more practical targets for battery-electric power.
Companies such as Kato-CES, which specializes in compact equipment, led the charge, so to speak, with the first non-tethered battery-electric machines. But it wasn't until Volvo Construction Equipment made a surprise announcement in early 2019 that it would end new diesel engine-based development in its compact equipment lineup in favor of battery-electric power that the industry really took notice, with the drive toward electrification taking a firmer hold.
Volvo began North American sales of its first two battery-electric models – a mini-excavator and compact wheel loader – in late summer 2020, with units appearing on jobsites starting in the first half of 2021. The company has since announced three additions to its electric-powered compact offering, with production on these models starting in Q2 2022.
Igniting the Spark in Heavy Equipment
While compact equipment was the first to reach the production stage, heavy equipment isn't as far behind as you might think. Concepts and prototypes have been shown in abundance over the past handful of years, with select models already moving beyond research and development into the test phase in real-world conditions.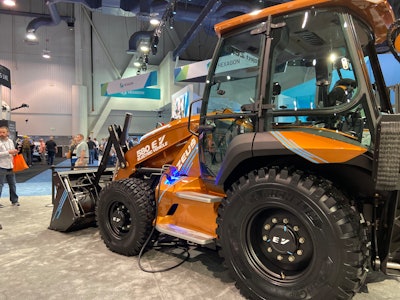 There have even been a handful of production models introduced over the last few years. For example, Case Construction Equipment premiered a production version of the 580 EV, the "first fully electric backhoe-loader," at CONEXPO-CON/AGG 2020. Moving even further up in size classes, Liebherr introduced "unplugged" versions of select crawler crane models, including the 220-ton-capacity LR 1200.1, as well as the 55-ton LB 16 drilling rig, both of which are capable of several hours of operation solely on battery power.
As electric power continues to move up into higher utilization/higher duty cycle machine types, far greater power density will be required. IDTechEX estimates the "arduous duty cycles" of heavy-duty machines over 20 tonnes will require more than 300 kWh of energy to deliver a full eight-hour workday. The current limitations in battery technologies mean sizable battery packs will be needed to meet this demand. Their higher cost, onboard space requirements and long charging times may hinder speedier product development in larger machine size classes.
Hydrogen fuel cell technology has emerged as a potential solution. While the technology comes with its own set of challenges, it has the capability to deliver the power densities required for many forms of heavy utilization machine forms on the jobsite.
Read more: Large Machinery OEMs Explore Hydrogen Future
Cost and Durability Are Critical
Though an all-electric jobsite is becoming more plausible, the U.S. construction industry is nowhere near reaching that point just yet. There are still too many variables, and questions, that must be addressed.
"Critical to the deployment of electric machines will be the total cost of ownership," wrote IDTechEX in an excerpt of its report "Electric Vehicles in Construction 2022-24". "There is a premium on electric machines over diesel, primarily related to the cost of the large battery packs."
The global market research firm goes on to note that while the savings in maintenance and fuel costs of an electric mini-excavator could be sufficient to offset the price difference vs. diesel, the costs of electrification of larger machines "likely remains prohibitive, and OEMs will need significant regulatory and financial support to promote uptake."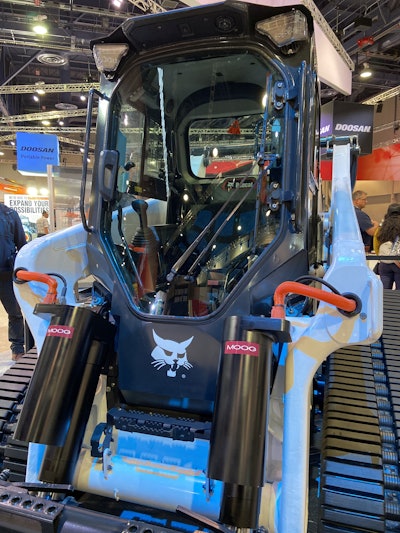 Then there's the question of residual value vs. traditional diesel models. When asked during the Ritchie Bros. panel discussion whether electric equipment will be able to retain its value three years from now, Sleight responded, "I think the answer is ask me in five years."
Sleight cited battery life as a critical factor. "I think there are concerns about the long-term durability of the batteries," he stated, pointing to the all-too-common experience of having a battery in a mobile phone or tablet go out after so many charging cycles. Yet, he also cited advantages on the life-cycle cost front.
"You're starting to get manufacturers that have a fully electric machine – from battery to [electric] drive motors for the tracks, to electric actuators for the boom or the bucket," Sleight pointed out. "The maintenance problems that you get with [diesel-powered] machines are burst hoses, something blown in the engine or an injector has dropped into the cylinder… [With all-electric], you have a much, much smaller component count to get the power to where it's needed."
A fully electric machine doesn't require a circuit of high-pressure hoses, and there is far less fluid to monitor and fill, or filters to replace. "A lot of that goes away," said Sleight. "From that point of view, if there's less to maintain on a machine, there's less to go wrong. So, the residual values should be strong, I would think."
But only time and experience will determine where residual values will actually land.
Charging Time and Availability
Also a concern with battery-electric equipment is charging time and charging infrastructure, particularly for machines used in remote areas with limited or no access to the power grid.
"My suspicion about a lot of these electric machines is that overnight they may be charged on a diesel generator which, if you have to do it, fine, but that's not really seeing the big picture," Sleight commented.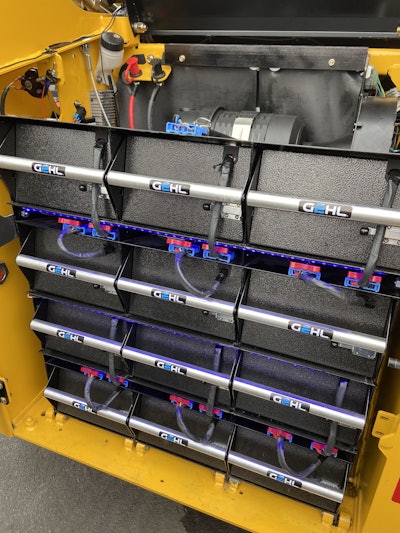 He noted that swappable battery technology is being used as the solution in certain applications, including in an electric asphalt paver developed for a Dutch contractor. When the current battery charge is depleted, the battery can be switched out with a fully charged replacement in minutes. Though there is added cost in acquiring multiple batteries, the solution can help to eliminate the cost of charging-related downtime on a project.
"The big problem is charging time and availability," Sleight continued. "If you take the battery out and put a fresh one in, that deals with one of the big, big problems around electric equipment."
Other solutions to extend both battery life and provide access to further charging solutions are currently under development.
Read more: Charging Strategy Required for Battery-Electric Construction Equipment
More Incentives Required
Perhaps the biggest barrier to an electric jobsite is the lack of incentive, and sense of urgency, present for contractors in this U.S. Whereas other countries are actively committing to a net-zero carbon future, the U.S. has yet to move fully in that direction. Until that occurs, regulations prompting increasing electrification are unlikely to emerge outside of select project requirements, community restrictions and/or state regulations.
Then there's cost. The premium price associated with electric equipment will gradually diminish as sales volumes increase, but current pricing is restrictive for many construction firms. Until the economies of scale kick in, growth in adoption of electric machines is likely to remain slow for the foreseeable future, concentrated among those companies seeking to reduce their carbon footprint or those needing to meet specific project restrictions.
Yet, incentives do exist. As previously noted, there are potential life-cycle cost savings to be gained with electric, especially as fuel and fluid costs climb and parts availability and pricing under ongoing supply chain restrictions remain uncertain.
And though greenhouse gas emissions remain the primary force behind the move to electrification in many global regions, IDTechEx argues there are other drivers to support it, including health and safety concerns centered around diesel engines in use on construction sites.
"Electric machines are significantly quieter, offering the potential for improved communication, safety and productivity on site, while reducing the inconvenience of noise pollution for the surrounding area," IDTechEX points out. "The elimination of toxic exhaust emissions could improve air quality on jobsites and in the surrounding vicinity, improving the work environment for construction workers."
That said, the dichotomy that currently exists between value and cost is likely to keep electrification's position in the U.S. construction industry unclear, at least for the near term. But there's no denying that we will continue to see and hear more about the technology, with a growing number of electrified production models sure to be in construction's future.