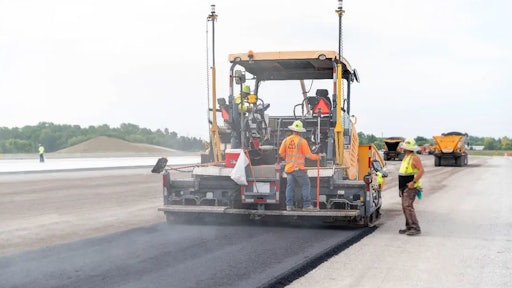 Trimble
While Trimble is holding most of its big news for its Dimensions conference in November, the company at buama 2022 announced new factory-ready machine control options with ABI Mashinefabrik und Vertiebsgesellshacbht mbH, Vögele and Junttan Oy.
These machines will be equipped from the factory with brackets, hardware and other features designed to facilitate installation of Trimble aftermarket machine control components. Trimble SITECH dealers install and support the product.
Vögele Pavers
Trimble Roadworks version 2.10 with Horizontal Steering Control will now steer properly-equipped Vögele asphalt pavers and controls the screed width according to a 3D design. The auto steering and screed control functionality enable contractors to increase quality for more accurate paving, reduced operator fatigue and faster completion. The system also reduces waste and improves jobsite sustainability, supports more accurate materials quantity estimates.
Trimble Roadworks version 2.10, including Horizontal Steering Control and automatic screed width control, is compatible with properly equipped Vögele Premium Class asphalt pavers and is now available worldwide through the SITECH distribution channel.
Junttan Oy
Junttan Oy announced today the availability of Trimble Groundworks Machine Control System for Piling Machines as a factory option on Junttan Oy foundation machines.
Trimble Groundworks is a 3D machine control system that improves efficiency and reduces downtime with stakeless navigation, productivity and quality monitoring, and office-to-field connectivity. The system helps optimize productivity by enabling operations day and night and under almost any conditions. Using 2D or 3D guidance, Trimble Groundworks provides accurate piling depth and direction. The system reduces driving time per pile for piling machines, decreasing fuel usage to improve jobsite sustainability. Trimble Groundworks is expected to be available for order in the first quarter 2023 as a factory-fit option from Junttan Oy.
The Trimble Ready option for ABI MOBILRAM-Systems and DELMAG Drill Rigs will be available in November 2022.
ABI GMBH
ABI piling and drilling machines shipped from the factory will be ready for the installation of the Trimble Groundworks Machine Control System, which can significantly reduce the cost and complexity of the installation for the contractor.
With Trimble, pile driving and drilling operations will be guided to drill to the right depth, preserving the machine's drill rod, crown or hammer from wear and reduce the use of surveyors.
The Trimble Ready option for ABI MOBILRAM-Systems and DELMAG Drill Rigs will be available in November 2022.