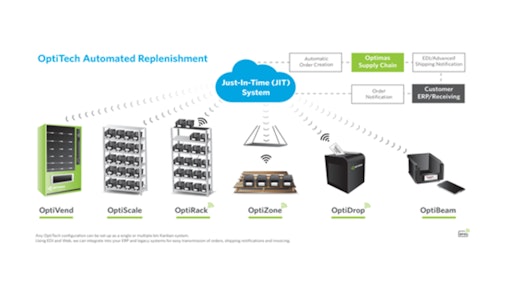 Optimas Solutions
Traditional vendor managed inventory programs track part ordering, fulfillment and replenishment in construction original equipment manufacturer (OEM) facilities. However, a genuinely automated, end-to-end system provides a more significant scope and benefits than simply managing parts.
Modern inventory management offers a strategy that elevates supply chain assurance, increases facility efficiency and positively impacts financial performance. These tech-enabled processes also enhance supplier-distributor collaboration and align both partners by:
Illuminating and adapting to changes in demand
Offering visibility into consumption patterns, on-hand inventory and locations
Providing data to optimize quantity, logistical and delivery decisions
Automating replenishment based on individual facility requirements
Digitized inventory management ensures that end users can make data-driven decisions with current inventory numbers that are not vulnerable to mistakes, tardiness, miscommunication or multiple data sources. In turn, automated solutions can help OEMs more accurately anticipate stock levels required and bring their supply chain planning into focus.
Still, some on- and off-road OEMs continue to depend on their legacy inventory management processes. Familiarity breeds comfort, but remaining loyal to those routines is likely doing the teams few favors. Before embarking on a new solution, its best to learn more about what fully integrated inventory management offers, how a digitized system reduces cost and the small steps required to get started.
What Is Tech-Enabled Inventory Management?
Managed inventory involves a partner (think full-service distributor) that's responsible for all things related to inventory. This resource develops a custom program to ensure that stocking levels match demand and inventory is delivered when needed. The partnership streamlines the supply chain. It reduces costs; provides higher visibility into parts consumption; and reallocates human resources away from slow, manual, error-prone work to more quality-focused, value-add responsibilities. Partner requirements include:
Digital tools to meet individual facility requirements—The ability to easily implement technology solutions that meet different workflow and space requirements at one or multiple manufacturing facilities.
RFID and EDI—Proven transmission protocols that assure that the partner's network and support data flows freely and securely to and from manufacturing and distribution locations.
Integration into existing ERP and SCM platforms via web tools—It's critical to ensure that all aspects of production are working with the same data through a single source of truth.
Security—All data transactions moving between the manufacturer and the partner must be secure and can't be compromised.
Accountability at the facility, group, and individual levels—The partner should demonstrate multiple ways to understand and attribute inventory use.
Reporting—Visibility throughout the managed inventory process starts with good reporting designed to meet a manufacturer's unique needs.
Control—The partner needs to demonstrate that manual inventory practices can be moved to automated replenishment processes at a pace that's comfortable for the manufacturer.
How Does a Digitized System Help Lower Costs?
An Industrial Machinery Digest study found that most companies devote 20% to 40% of their overall working capital to inventory alone. Keeping those costs down is critical to maintaining cash flow with such a sizable percentage of funds invested in inventory. Automated inventory management facilitates better stocking levels, and less excess and obsolete (E&O), greater control over cash flow and fewer people needed to manage stock. A tech-enabled solution can reduce costs in many ways and construction equipment manufacturers are starting to understand that:
Better forecasting through technology—Using RFID technology to manually or automatically submit replenishment orders means that inventory may be monitored in real-time. As a result, procurement and supply chain professionals can manage inventory levels to production requirements.
Working smarter with business analytics—Technology available today allows OEMs to capture and use data and modeling based on real-time and historical consumption patterns. The best forecasting uses a mix of quantitative (past numerical insights and current market demand) and qualitative data (market trends, product life cycle and competitive landscape) to guide more accurate inventory management decisions. This foresight allows manufacturers to see where demand and usage comes from and plan accordingly. They can see where fulfillment levels are and adjust production up or down based on demand, parts availability and lead time.
Refocusing human capital—A manual scanner or an automated replenishment program will take less time, teammates and process to maintain appropriate inventory levels. These productivity gains decrease soft costs and offer an opportunity to reallocate people to roles with greater impact on production.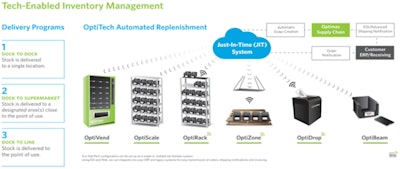 How Do OEMs Get Started?
The first step is to identify the core pain points of the OEMs current solution and map them to the benefits that a digitized system provides. Here are the top five questions to ask:
On a scale of one to 10 (with 10 being the best) how accurate are part counts?
How long does it take to go from count to replenishment?
Has production slowed or stopped because of low inventory or stockouts during the last 12 months? If so, was the plan to elevate production to the required level successful?
Has E&O inventory negatively impacted the OEM's balance sheet in the last 3 years?
Is the current supplier doing anything to improve the inventory management process?
Answers to these questions are a first step toward achieving the benefits associated with a modern inventory management solution. Digitized inventory management can make an OEM's supply chain more efficient and resilient to disruptions, develop higher visibility into parts consumption, improve forecasting and help reallocate resources to more productive responsibilities.
Tech-enabled inventory management has promising benefits for manufactures in the construction equipment arena. Among them are savings in time from a labor and administrative standpoint, increased supply chain assurance and greater confidence in data-driven decisions.
Today's supply chain solutions and the right partner to plan, implement, report and fulfill orders can elevate efficiencies and help manufacturers be more competitive in a very demanding marketplace.
Resources
https://industrialmachinerydigest.com/industrial-news/columns/business/how-bad-inventory-management-can-impact-your-firms-organizational-performance/
Paul Przyby is senior vice president, sales and marketing, Optimas Solutions.