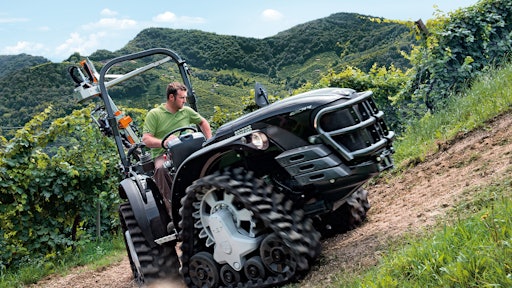 Antonio Carraro S.p.A will be one of the many exhibitors at SITEVI 2011 displaying their latest products. SITEVI 2011, the International Exhibition for the Vine-Wine & Fruit-Vegetable Sectors, will take place November 29 to December 1, 2011 in Montpellier, France.
Antonio Carraro will be featuring several new products at the exhibition, including:
1) Series Tigrone: Jona 6500, steering and articulated versions 
The three versions of the Jona model, dedicated to demanding and essential farmers in the Mediterranean basin (row vineyards and orchards on slope), have been fitted out with a new 57 hp turbo diesel engine. The three versions, one with isodiametric wheels and steering chassis (Jona); the second with differentiated wheels (JonaF) and steering chassis and the third, isodiametric with an articulated chassis (Supertigre), are three different types of the "evolved basic" AC model, introduced at Sitevi 2011. The configuration of the "Jona," tractors designed to work on hills, in mountains or on specialised crops, where determining factors are grip, handiness and size, having draft and position control that simplifies the use of the tools as it combines draft and position control. These tractors are extremely comfortable thanks to a spacious and easily accessible driving position. The central tunnel has no obstacles at all. The rear mudguards are fitted with operator controls. The 12-gear synchronised transmission system with reverser provides a wide range of speeds for all requirements. All the Jona models can benefit from a warranty extension (EXG) of up to four years.
2) The new "S" Series: technology and saving
THE NEW ERGIT "S" SERIES
The Ergit "S" series comprises four models of reliable, professional tractors based on a tried and tested technology. Consistently with the family-feeling focus of the top-of-the-range AC tractors, the new design helps improve both appearance and functionality. The strategic choice of direct injection engines assures fuel saving and outstanding performance. Designed to perform routine farm work at the company or in the fields, on flat or sloping ground, they assure maximum adherence in all situations, constant traction and minimum ground compacting. To further safeguard the ground, the front drive can be disengaged at any time.
TX 7800 "S" (Yanmar 71 hp direct injection, 4 cylinder - 16 valves – aspirated) isodiametric single-direction tractor with ACTIO steering chassis, offers an exceptional turning circle for agile use even in the most demanding manoeuvres.
TRX 7800 "S" (Yanmar 71 hp direct injection, 4 cylinder -16 valves - aspirated) isodiametric tractor with Rev-Guide System RGS, the integrated system of technical solutions that allows you to rotate the driving position by 180 degrees to use front tools such as fork lifts, arms, blades, shredders and snow blowers with ease. Its wide versatility of use makes this tractor suitable both for agriculture and civil maintenance at large sports centres, parks and public spaces, where it offers versatility in all seasonal activities.
TGF 7800/9400 "S" (Yanmar 71 hp direct injection, 4 cylinder -16 valves - aspirated/ VM 87 hp direct injection, 4 cylinder, turbo intercooler) is a single-direction tractor with differentiated steering wheels. The TGF stands out for its low centre of gravity which assures stability and safety on slopes and rough terrain. Its compact structure, with the front wheels smaller than the rear ones, offers precise steering and very tight turning. The TGF can be configured with many tyre combinations to achieve perfectly customised versions.
SX 7800/9400 "S" (Yanmar 71 hp direct injection, 4 cylinder -16 valves - aspirated/VM 87 hp direct injection, 4 cylinder, turbo intercooler) is a single-direction articulated tractor with isodiametric wheels. The articulated chassis and the narrow track assure extraordinary operating performance in small spaces, along the corridors between rows and when turning headlands. The four driving wheels assure constant adherence and drive in all situations.
Transmission and gear Box
The large, sensitive clutch doesn't require any adjustment. The gear box has 32 speeds, 16 forward and 16 reverse with a synchronised inverter that allows the drive direction to be inverted even when the tractor is in motion.
MACHINE AND TOOL: elevated AC technology
The integrated lifting/hydraulic system/PTO assembly makes the "S" Series tractors versatile enough to work with many different types of equipment, maintaining the same level of alignment, adherence and stability. The oversize hydraulic circuit, provides exceptional hydraulic capacity for using all types of equipment with ease. The power take off is fully independent and has two speeds: 540 rpm, 540 E (750 rpm) and synchronised with gear speeds. It can also be activated in movement to provide manoeuvrability even under critical conditions and with a trailer.
CABIN: "STARLIGHT" for "S" Series
The StarLight cab features a spherically curved, simple and essential design. Thanks to its airtight seals and integrated hinges, it has no projecting parts and can therefore penetrate the narrowest rows without damaging flowering plants or fruit. The front and rear windows offer full visibility of equipment and the roadway. The ventilation system features a rapid front windscreen defogging system. The acoustic comfort is similar to that of a car due to the internal layer of sound-absorbing material on the cabin walls.
SAFETY FRAME: "EASYSTAR" for "S" Series
The EasyStar frame was designed to assure comfort, ergonomics, safety, working space and visibility of equipment even when reversing. The basic configuration, which protects the operator from bad weather and sunshine, features a 6-upright frame with protective roof and left-hand rear view mirror. Customers can purchase further accessories to complete the basis frame (such as front and rear windscreens complete with wipers) to work even in pouring rain and in the toughest conditions.
3) TRH 9800, big hydrostatic reversible with "speed factor"
There is a new version of the "big" AC hydrostatic reversible tractor with an 87 hp engine. The new engine made by Yanmar (4 cylinder, turbo, 3300 cc, counter rotating weight system with injection system and electronically controlled EGR) guarantees thermal efficiency, minimal emissions, low noise levels and reduced fuel costs. It is also available with Clean Fix (optional), a flow inversion fan for constant cleaning of the radiator and the front grill of the bonnet; the brilliant TRH engine is flexible and perfect for tractors often used in backward and forward movements carried out in quick succession, necessary during activities involving movement and maneuvering. All this comes naturally to a reversible hydrostatic tractor that draws its X factor from its versatility, practicalness, operative comfort and simplicity. The hydrostatic transmission is fitted with "automotive" functions such as the device which permits the modulation of engine revolutions in accordance with its forward speed. The hydrostatic transmission offers an infinite speed range in both drive directions. Thanks to the Electronic-Speed-Control "ESC", the TRH is a true specialist in activities requiring constant forward speeds and/or rpm of the PTO when using, for instance, gritters, sowers or sprayers. The operator sets the rpm of the PTO and by simply pressing the appropriate button on the dashboard he is able to set the chosen forward speed. Through a series of control devices, the settings remain constant even in the event of sudden uphill or downhill slopes, right until the end of the working day with the operator only needing to correct the direction from time to time.
The hydrostatic forward movement is a winning solution with many types of equipment: from the most powerful crop sprayers, to the vertidrain for soil coring, to the front shovel for earth movement, to the catenary for digging drainage canals, to large mowers for grass cutting over large green areas and even equipment for transplantation which requires micrometric speed variations. Furthermore the TRH 9800 proves itself to be a real champion in haying and embankment maintenance. The maximum speed of the TRH 9800 is homologated at 40 Km/h. On request, in addition to the EasyStar with its 6 uprights, the TRH comes with the spacious and comfortable, air-conditioned StarLight cab with its 360 degree all round vision and which comes fitted with other comforts such as a sunroof and a window positioned above the wheels.
4) Ergit 100 Series - SRH 9800: new articulated reversible hydrostatic tractor 
SRH 9800, the "great" AC articulated reversible hydrostatic tractor was expressly designed to work in cramped spaces; between the rows of delicate vineyards, on flat and sloping ground, in nurseries and in greenhouses. The 87 hp, 4-cylinder, water-cooled turbodiesel engine is reliable, silent-running and economic. It features injection system, electronically controlled EGR and Clean Fix system – a fan with flow reverser which continually cleans and optimises performance of the radiator. The ergonomic and spacious driving concept of the SRH assures maximum comfort even for generously-sized drivers. The new ESC (Electronic Speed Control) device for the electronic and automatic control of forwards speeds and rpm of the engine and the electrical and hydraulic systems, with optional Multifunction JPMÔ joystick, optimise operating comfort and reduce work times. The hydrostatic transmission features an "automotive" function, a device that modulates engine revs according to forwards speed. The model boasts an infinite range of speeds in the two directions of travel and maximum operating practicality whenever rapid forward and reverse movements are required. The maximum approved speed is 40 km/h. The hydrostatic forwards movement is a winning solution with many different pieces of ground care equipment, a shovel for moving earth, a chain conveyor for digging drainage channels, as well as a mower, sprayer and plant-lifter for greenhouses. Thanks to the ESC (Electronic Speed Control), SRH is an authentic specialist in work requiring constant forwards speed, such as ground treatment or cultivation work. The operator sets the rpm of the power take off and, by simply pressing the relative button on the dashboard, sets the chosen forwards speed: the settings remain constant until work is finished. The operator does not have to do anything, apart from checking the direction of the tractor. The 540/540E rpm rear independent power take off features a progressive and synchronised electro-hydraulic clutch. The same applies to the front traction release. Hydraulic oil bath disk brakes are fitted on all four wheels.
5) Series Ergit 100 – Mach 4: the AC outsider
Mach 4 is an articulated reversible quadtrack for specialised farming. 87 hp, diesel 4 cylinders turbo engine – 16 valves – water cooled, reliable, silent-running and economic with injection system and electronically-governed EGR. Not a classical tractor, nor a traditional crawler, nor a quad, and not even a snow-cat! Though it shares many features of these extreme performance vehicles, it does not have their limits and disadvantages. For example, Mach 4 does not have that considerable limit of traditional crawlers which, as they cannot circulate on roads, can only be transported from one place to another on trucks. Furthermore it is approved for road speeds of up to 40 Km/h and can be fitted with Starlight cabin. The four rubber tracks ("alternate grip" to grip the ground better) guarantee positive stability on steep slopes and continuous traction on slippery, crumbly ground and on snow. Mach 4 has been created to handle the most extreme working conditions, enabling operators to do what they have to (in specialised farming, vineyards, orchards or garden centres) maintain planned schedules, whatever weather conditions may be and on any kind of ground, wet, muddy, flooded, slippery, snow-covered. Rubber tracks offer a driving comfort comparable to a traditional tractor. Ongoing adherence to the ground allows it to get over the highest humps without sudden movement (harmful to operator posture) typical of traditional crawlers: the four independent tracks move forward in synergy, minimising ground height differences. Mach 4 stability is guaranteed by its low centre of mass contributing to vehicle safety, along with its wide ground clearance (325 mm). Compaction is minimized about one fifth of a tractor. Thanks to its ACTIO chassis, Mach 4 is extraordinarily easy to handle, on tight bends and with agile movement in tight spaces. The steering wheel is effortless to use and reacts to any minimum action from the operator, guaranteeing absolute precision for each maneuver. When turning, Mach 4 turns like a traditional tractor, in circular progression, without damaging the soil; while every time a crawler turns, the "skid steer" scrapes the ground brutally, forcing the operator to do maintenance operation to headlands when work is over.
Mach 4 is reversible, equipped with Rev-Guide System RGS, the classic AC reversing system on a revolving tower, synonymous of great versatility, with a choice of traditional towing or pushing equipment or the use of front mounted implements. Mach 4 is equipped with a JPM Joystick located in the operator seat armrest. This device drastically simplifies work with all equipment: pruner, vine trimmer, sweeper, forklift, snow turbine or blade and in particular during loading and "off and on-road" transport. Mach 4 is a universal vehicle from a seasonal point of view too: in the mountains it can be used for grass mowing, to tow on the most difficult slopes, to clear snow right up to preparing cross-country ski runs.