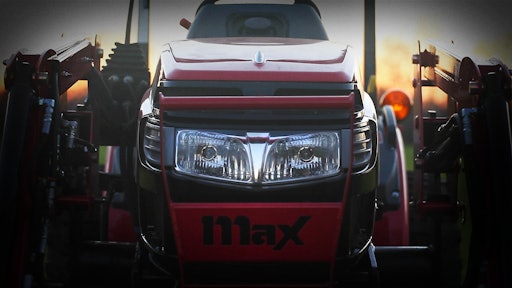 Houston-based Mahindra USA, Inc., announces a new line of tractors that will redefine the sub-compact tractor market, the Mahindra Max series, which is comprised of the Mahindra Max 22, the Mahindra Max 25 and the Mahindra Max 28 XL. The line, which is offered with Mahindra's best-in-class five-year powertrain warranty, will be available at local Mahindra dealers in early February 2012.
"Our customers and dealers told us that today's subcompacts do not meet all of their needs and fall short in performance and capabilities and overall value," says Mani Iyer, President, Mahindra USA. "Our new Mahindra Max series is a not only revolutionary and value packed, it is the first real tractor in the subcompact tractor category."  
"With the Mahindra Max 22 and 25 models, we are setting the new standard in the subcompact market and raising the bar in terms of performance, versatility and ease-of-use," says Cleo Franklin, Mahindra USA's Vice President, Marketing and Strategic Planning. "Unlike the lawn and garden tractors that currently make up the subcompact category, the Mahindra Max 22 and 25 are real tractors with true tractor performance and capabilities. In addition, we are creating an entirely new category - the mid-compact - with the Mahindra Max 28 XL, which has compact tractor performance and versatility in a near compact tractor size. The Mahindra Max 28 XL can do everything a compact tractor can do, and is the only tractor of its size, power, dimensions and capability in the market."
The Mahindra Max series features a full-length tractor frame that will allow users to install a backhoe at any time. In addition, a wide range of attachments and implements are also available for maximum versatility, including a drive-over mowing deck, snow blower, blade, broom and the highest capacity loader on the market.
The Mahindra Max series is poised to deliver maximum performance, maneuverability and value with features that have never existed before in this category, including:
Max Value - All of the typical full-sized tractor elements, such as a quiet and powerful engine, smooth transmission, stronger frame, maximum versatility with attachments (mower, backhoe, loader, etc.) in one tractor frame at a competitive price point
Max Versatility – Owners will be able to do more - mow, dig, pull, load and lift - with their choice of up to 15 attachments and implements to handle any task
Max Maneuverability – Best in class turning radius in its size with Mahindra's Dual Braking System (DBS), allowing for maneuverability in tight spaces to get work done and get out quickly
Max Ease of Use – Featuring the new Xpress Seat, an easy turn seat for simple tractor –loader – backhoe operation, and the new Xpress Hitch for quick and simple implement set-up and removal
Max Weight & Stability  – including tractor tires, better traction, stability and safety for all jobs
Max Lift Capacity – Rear implement capability of a true tractor to take on the tough jobs with a Category I three-point hitch and best in class loader lift capacity
Max Hydraulic Capacity – Increase flow resulting in faster response time for tractor, loader and backhoe to get work done more quickly
Max Engine life – 28% lower RPM resulting in quieter operation, less engine noise and smoother and longer operation around the property, with lower fuel consumption (saves you more) and longer life
Max Power Transfer for Implements – Increased power to the ground to take on the tough jobs