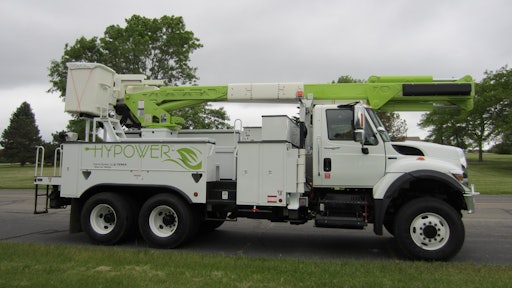 Continuing on its tradition of quality and innovative design, Terex Utilities introduces the new SCM48, SCM50 and SCM55 overcenter material handling models to its Hi-Ranger aerial device equipment lineup. These models feature the Terex lower boom cylinder design for low travel height and the Terex-patented Tri-Link elbow design for easy maintenance.
The lower boom cylinder design on the SCM series offers more open bed space and an overall height under 11 ft. (3.3 m) on a 40 in. (101.6 cm) frame. The low-profile of the SCM series allows for low platform stow near centerline of the truck to provide exceptional clearance of overhead obstructions such as bridges, trees and powerlines during travel.
The field-proven Tri-Link elbow design has been incorporated into Terex aerial devices since 1995. This mechanical design features easy access to greasable bushings and bearings, no lift chains or cables, and does not require a mandatory overhaul during the truck's lifetime.
All models have a gross vehicle weight rating of 31,000 lbs. (14,061 kg). The SCM48 features a 48.0 ft. (14.6 m) bottom of platform height, a 53.0 ft. (16.2 m) working height with a 39.3 ft. (12.0 m) overcenter side reach, and a non-overcenter side reach of 34.8 ft. (10.6 m) at 110 degrees.
The SCM50 features a 50.0 ft. (15.2 m) bottom of platform height, a 55.0 ft. (16.8 m) working height, a 41.2 ft. (12.6 m) side reach overcenter, and it has a non-overcenter side reach of 36.2 ft. (11.0 m) at 110 degrees.
The SCM55 is designed with a 55.0 ft. (16.8 m) bottom of platform height, a 60 ft. (18.3 m) working height and a 46.1 ft. (14.1 m) side reach overcenter, and it boasts a 39.5 ft. (12.0 m) non-overcenter side reach at 110 degrees.
The SCM series comes standard with a side mount, one-person, 700-lbs. capacity platform, as well as Control Plus "3-D" single-stick controls, a category "C" rating per ANSI A92.2, 200 degrees of upper boom articulation and 110 degrees of lower boom articulation, non-compensated boom design and a full-pressure open-center hydraulic system. Optional lower boom articulations of 100 degrees and 120 degrees are available.
The Terex HyPower Hybrid System is an available option for these models. The HyPower System allows operators to save fuel, reduce noise and increase efficiency, plus it has been optimized for the utility industry — making it significantly easier for utility operations to "go green."