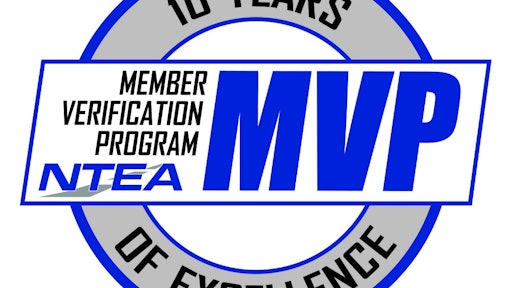 NTEA – The Association for the Work Truck Industry acknowledges the Member Verification Program (MVP) for reaching its 10-year milestone and recognizes 18 organizations distinguishing themselves as MVP companies during the quarter ending June 2015. In addition, 14 companies have requalified for the Program. MVP — launched in 2005 — is currently composed of 268 NTEA member companies, including truck equipment distributors, manufacturers and upfitters.
During its 10-year existence, MVP has recognized hundreds of companies for successfully implementing specific business standards and processes, and for taking the necessary steps to comply with applicable government regulations. Suppliers and upfitters with MVP status are identifiable to fleet managers and truck dealers as having achieved a higher commitment to excellence by their effective use of safety and quality standards.
Program criteria can involve liability insurance, warranty programs, vehicle and employee certification, safety policies and quality assurance — factors important to dealers, fleets and OEMs.
"In the last decade, MVP has become increasingly valuable to participating companies, showcasing their commitment to providing safe and quality vehicles to their customers," says NTEA Director of Technical Services Bob Raybuck. "Congratulations to all of our MVP companies for their achievements and continued efforts to excel in the industry."
Lang's Corner Garage (Rye, NH) — a longstanding MVP company — expressed its appreciation for the program, saying, "NTEA's MVP has ensured our shop stays up to date with all applicable regulations and safety guidelines. This knowledge helps us provide a more efficient and professional finished product to the consumer."
As of June 30, 2015 the newest MVP companies are:
A&K Equipment Co. Inc. (Rahway, New Jersey)
ABS Storage Products Inc. (Detroit, Michigan)
Dejana Truck & Utility Equipment Co. Inc. (Kings Park, New York)
Cabot Coach Builders (Haverhill, Massachusetts)
Cliffside Body Corp. (Fairview, New Jersey)
Hudson River Truck Equipment Inc. (Poughkeepsie, New York)
Interstate Truck Equipment Inc. (College Park, Georgia)
Kranz of Kansas City (Kansas City, Missouri)
Maintainer Corp. of Iowa (Sheldon, Iowa)
Nichols Fleet Equipment Inc. (Chattanooga, Tennessee)
North American Equipment Upfitters Inc. (Hooksett, New Hampshire)
Ohnsorg Truck Bodies Inc. (Belle Plaine, Minnesota)
Phoenix USA Inc. (Cookeville, Tennessee)
Reading Equipment & Distribution LLC–Clinton (Clinton, Maryland)
Reading Equipment & Distribution LLC–Suffolk (Suffolk, Virginia)
Thermo King Corp. (Minneapolis, Minnesota)
Total Truck & Trailer LLC (Snyder, Texas)
West-Mark (Ceres, California)
MVP companies must re-verify every three years. Companies that have successfully qualified to renew their MVP statuses are:
Ace Truck Body Inc. (Grove City, Ohio)
Ace Truck Equipment Co. (Zanesville, Ohio)
American Equipment & Trailer Inc. (Amarillo, Texas)
American Truck & Trailer Body Co. Inc. (Tracy, California)
Auto Safety House (Phoenix, Arizona)
Auto Truck Group (Kansas City, Missouri)
General Truck Equipment & Trailer Sales Inc. (Jacksonville, Florida)
HA Dehart & Son (Thorofare, New Jersey)
Intermotive (Auburn, California)
J-Craft Inc. (Lake Crystal, Minnesota)
Koenig Body & Equipment Inc. (Peoria, Illinois)
Manning Equipment LLC (Louisville, Kentucky)
Maxon Lift Corp. (Santa Fe Springs, California)
Utility Sales & Service Inc. (Appleton, Wisconsin)