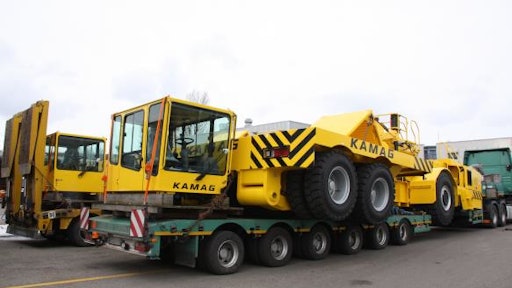 Molten steel transport is a red-hot topic for steelworks around the world. As a result, extremely reliable and safe vehicles are very much in demand. However, they are frequently only suitable for short distances due to their low maximum speed. The articulated KAMAG Ladle Carrier 3503 reaches considerably higher speeds than conventional vehicles for the transportation of molten steel transport, thus facilitating extremely efficient working operations.
With a payload of 180 t and a length close to 16 m, the KAMAG Ladle Carrier 3503 has a very imposing appearance. However, what makes the vehicle even more impressive is the cost balance. Due to its increased maximum speed, the vehicle saves the operator, Daejoo, time as well as money during operations at the Hyundai Steel facility in South Korea.
KAMAG Transporttechnik is part of the TII Group which is the recognized worldwide leader in the manufacture of heavy-duty vehicles. The TII Group has developed effective transportation systems for dealing with logistical requirements in the metallurgy sector that can efficiently cope with extreme heat, dirt and heavy loads. As a full-range supplier, the group provides vehicles for use in the production process in steelworks with which all transportation tasks along the value chain can be successfully tackled. The spectrum ranges from ladle transporters for molten steel and slag pot transporters for payloads up to 150 t in U-frame and platform constructions, slab transporters, industry transporters, scrap basket transporters, set-down skip loaders, compact coil transporters complete with hoods which provide protection against wind and weather through to heavy-load trailers with electronic steering and automatic guide assistance for driving under pallets.