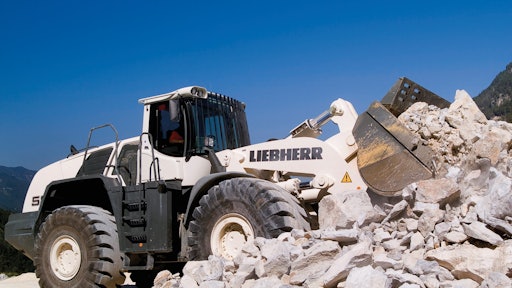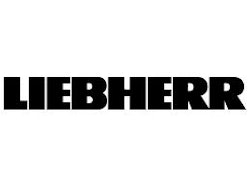 The Liebherr wheel loader L 586, which was on display at MINExpo 2012, features 335 hp (250 kW), an operating weight of 70,000 lbs. (31,750 kg) and a tipping load of 43,607 lbs. (19,780 kg). The loader is equipped with a 7.9 yd3 (6 m3) rehandling bucket. Suitable for quarry, load and carry as well as general re-handling and truck loading, the L 586 offers unmatched performance and efficiency. Multiple bucket and machine configuration options are available to suit any application.
Like all Liebherr wheel loaders, the L 586 is exceptionally fuel efficient. Up to 25% less fuel consumption compared to similar equipped competitive machines reduces the customer's overall operating cost and the equipment's environmental impact. The drive technology is a further optimization of the hydrostatic travel drive. The drive technology is based on one gear with two different sized hydraulic motors, as demand requires, at least one of the hydraulic motors is engaged when accelerating or decelerating; the wheel loader smoothly adapts itself to the required travel speed and drawbar pull automatically - without shifting gears. The result is smooth and productive operation.
The interior of the operator's cab offers the best possible layout for operator comfort and performance, and incorporates a Liebherr-designed cab mounting system to substantially reduce the interior noise and cab vibrations.
Liebherr wheel loaders are at the forefront of technology. Not only are the loaders updated to meet emissions standards, they are also packed with features that provide improved comfort, higher performance, and increased efficiency.