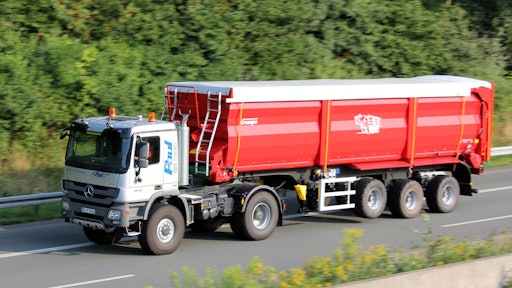 A two-axle Mercedes-Benz Actros 1846 4x4 in the special off-road Agricultural Tractor configuration from Paul Nutzfahrzeuge, combined with the three-axle SB 30/60 off-road semitrailer with up to 26 t loading capacity and Bandit conveyor belt system from Krampe Fahrzeugbau, Landtechnik und Metallbau GmbH: With acreages becoming larger in size, combined with increasing time and cost pressure, this combination provides farmers and contractors with an efficient solution for use in both field and on the highway while doing away with reloading.
The tractor/semitrailer unit has undergone field testing at vehicle manufacturer Krampe's location over the past few weeks. Its functional ability has been tested in the process, including application with various types of cargo at different usage sites. The positive steering semitrailer combination has proven itself particularly advantageous due to its handling performance under tight space conditions, at restricted clearance and ceiling heights, and during unloading operations on soft, unsurfaced ground.
Powerful service performance
"High off-road capacity and pulling power, as well as both soil-friendly in the field and running fast when hauling cargo on the road – a convincing vehicle concept," says Krampe Sales Consultant Markus Hüttemann after operating the tractor/semitrailer unit.
Norbert Wulhorst, Chief Designer at Krampe, is also delighted and commends the vehicle's operating efficiency. "Compared to a conventional tractor/trailer unit, this unit's price performance ratio convinced us. This versatile combination is extremely flexible and can be used for different kinds of applications thanks to the ease of switching between trailers and semitrailers. In addition, saving time-consuming conversion work and doing away with additional towing vehicles has a positive effect on operating costs."
Reinhold Grösser, Managing Director and Head of the Special Trucks and Chassis Unit of Paul Nutzfahrzeuge GmbH, also shares his satisfaction with the test result. "We take great pride in Krampe's excellent collaboration and the outstanding result of the field test."
Paul special conversion for agriculture, forest and municipality
In addition to easy hydraulic operation via joystick and high safety level in operation thanks to the rear view camera, the all-wheel drive Mercedes-Benz Actros 1846 4x4 Agricultural Tractor has lots of other fine points that make a wide range of equipment use and transport applications in farming and forestry possible. State-of-the-art drive technology, high axle weight and payload capacities, an air-suspended rear axle, load sensing hydraulics, rear power take-off shaft, auxiliary drives and short overhang, but also the option of converting from 24 to 12V are just some of the many highlights.
On the strength of its cost effectiveness and its registration positioning as an agricultural or forestry tractor and tool carrier this Actros conversion is an interesting alternative to costly special-purpose vehicles for farmers, for machinery coops and for contractors.
Dual use with off-road semitrailer and Bandit conveyor belt system
The combination with the 56 m³ capacity SB 30/60 off-road semitrailer from Krampe, together with its Bandit conveyor belt system, enables an all-year round deployment in agriculture and forestry, combined with use in construction, industrial or municipal fields of application. This combination thus represents a flexible and sustainable solution for the ongoing structural transformation in the agricultural sector.
The various transport options range from break bulk cargo like pallets and big packs through loose bulk commodities like wood chips and silage to flowable goods like grain or sand. The low tare weight, the infinitely variable metering rate and the fast unloading speed of a maximum of two minutes constitute a considerable advantage here.
At Agritechnica 2013, a combination consisting of Paul-converted Actros Agricultural Tractor and Bandit off-road semitrailer will be displayed at the Krampe stand in hall 4 at the Hanover exhibition grounds (Booth No. C09).