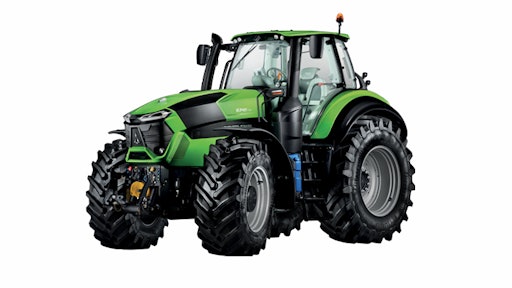 The DEUTZ-FAHR 9340 has won the 2015 "Golden Tractor for the Design" award, an important recognition for the DEUTZ-FAHR tractor range in the high power segment.
The "Golden Tractor for the Design" award is assigned each year by the "Tractor of the Year" jury, composed of over 20 journalists from various trade magazines in the field of agricultural mechanization throughout Europe. In particular, the award acknowledges the best solutions designed for the agricultural world in terms of ergonomics, features and style.
The 9 Series represents a further milestone achieved by DEUTZ-FAHR in terms of productivity. With four models from 270 to 340 hp with a TTV continuously variable transmission, the 9 Series is the ideal choice for the highest levels of power, comfort, efficiency, fuel consumption and operating costs. Also the style is that of a leader: clear and decisive lines for an aggressive design with the typical traits of the new products of the brand. The models of this series ensure high performance in the field, both with high traction force tools as well as when working with large dimension tools, while remaining versatile tractors with excellent maneuvrability.
The award ceremony took place on November 12 during the international EIMA fair in Italy. "To be proclaimed winner by the Tractor of the Year jury for the third consecutive year," says Lodovico Bussolati, CEO of SAME DEUTZ-FAHR, "is a great satisfaction for us. This award represents the best recognition for the Research and Development investments made in recent years."