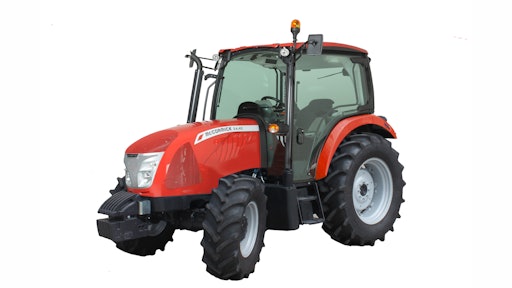 At this year's EIMA show, McCormick presented its latest product developments from a process that began two years ago. Its main aim is to offer products that meet customer needs around the world using the latest production techniques and features that operators can use to increase productivity and maximize efficiency under all types of operating environments.
Upgraded engines and Family Styling alongside cutting-edge technology highlight McCormick's Premium Brand identity that continues to grow.
McCormick has launched the exciting new X6 VT-Drive Series, which utilizes the latest-generation of continuously variable transmission that is produced in house.
X6 Series
These new models combine the best features of the McCormick X60 and MC tractors in a new package with more features and options than ever before. Two models are available, the X6.420 has 111 hp output for draft work while the X6.430 delivers 121 hp. Using Tier 4 Interim BetaPower Fuel Efficient engines with SCR emissions control, they offer Power Plus electronic engine management to release another 10 hp for added performance when working with PTO-driven implements or running at speed on the road.
In addition to the standard 40 kph transmission, with its 36x12 configuration and three-speed thumb-switch selected powershift, the McCormick X6 tractors will be available with new 40 kph Eco and 50 kph transmissions.
The 40 Eco option allows the tractor to run at top speed using lower engine rpm with significantly less fuel being used, so the transmission is ideal for operators who anticipate a fair amount of road work.
Alternatively, for operators wanting a higher-spec tractor, the 50 kph option can deliver the same fuel savings and reduced in-cab noise at 40 kph or can be used to cut journey times over greater distances.
To complement this new road performance, engineers at McCormick manufacturer Argo Tractors have developed a mechanical suspension system for the tractor's new cab. It complements the optional front axle with independent wheel suspension, and is proven to give a more comfortable ride and reduce operator stress, even on every day jobs.

A 90 mm longer wheelbase over the X60 will also help ride quality without negatively impacting manouverability, as well as adding stability with implements carried on the 5.4 ton capacity three-point linkage. A new PTO option with 'economy' as well as 'power' settings for both 540 and 1,000 rpm also features at the back end, with interchangeable shafts for implement and pto speed flexibility.
A new hydraulic system also covers all bases – there is a simple gear pump delivering up to 66-liters/min depending on engine speed or a pressure and flow compensating piston pump that delivers oil on demand at up to 110-liters/min.
In addition, the new four-post cabin with its anti-drop door hinges and soft-shut latches, upmarket steering column-mounted instrument display, and easy to handle control layout all lend themselves to a comfortable user friendly machine to drive.
The new X6 VT-Drive version features the same technical solutions but stands out for its latest-generation Argo Tractors designed and produced continuously variable transmission. An additional model introduced is the X6.440 with 133 hp unboosted rating and 143 hp with Power Plus. Speed control and different driving modes are available using the joystick on the multifunction armrest. With a CVT the operator has the opportunity to maximize productivity and is particularly suitable to PTO and precise speed control operations.
The continuously variable transmission is also available in McCormick's X7 Series that was introduced at the Hanover Show and represented at EIMA by the new X7.6 VT-Drive models with a ZF four-range transmission.
The X7 VT-Drive comprises three 4-cylinder models, i.e. X7.440, X7.450 and X7.460, with 143, 160 and 166 hp power ratings (175 hp with Power Plus for the model X7.460) and two 6-cylinder models, X7.660 and X7.670,with 175 and 192 hp Power Plus power ratings, respectively.
As part of the standard equipment, the entire VT-Drive range is equipped with 12 in. touchscreen monitor to interact and control the tractor functions and implement operation. The engines are Betapower Fuel Efficiency Tier 4 Interim.
For 2015 models, the X7 mechanical versions with Pro-Drive transmission will be available with the 12 in. touchscreen monitor, offering compatibility with the optional auto-steer systems. Enhanced transmission operation for Auto range shifting will also be incorporated as will new cab improvements that will reduce the noise level down to 70 dBA. Finally, a factory ready loader installation will be introduced using a dedicated joystick for precise smooth operation.
Further McCormick innovations involve the X5 Series presented at EIMA with a new four-pillar cab that raises the comfort level of this popular range and provides superior visibility, making these tractors ideal for a wide variety of work and especially with a front loader as upward vision is enhanced by the roof window. A simple dial potentiometer modulates the power shuttle to suit the job and ensure optimum performance and control safety.

Designed and manufactured by Argo Tractors, the new cab offers superior comfort, outstanding access and attention to detail. Comprehensive, easy-to-read instrumentation, superior ventilation and cab filtration from the side mounted filters keeps the overall cab height to a minimum for entry into low buildings.
McCormick's latest arrivals include the X4 Series low range models, X4.20, X4.30 and X4.40 featuring 61, 68 and 75 hp power ratings.
The engines meet Tier 4 Final standards and are equipped with EGR exhaust gas recirculation system and DOCs, eliminating the need for a DPF and subsequent regeneration.
Available in both footstep and cab versions, these new models are powerful, light and versatile. They're ideal for all farm work, horticultural, orchard and vineyard operations using standard row spacing.
With their short wheelbase (2.1 m) and narrow width (minimum 1.75 m), the new X4 tractors feature the 12 FWD + 12 REV transmission with 40 km/h top speed and can be equipped with mechanical reverse shuttle and creeper (16 +16), or electro-hydraulic reverse shuttle, declutch and shuttle modulation.
The two-speed PTO is button operated for convenience and hydraulic outputs of 49 l/min for implements and 28 l/min for steering. The mechanically controlled rear lift provides 2,700 kg or 3,400 kg with the addition of a supplementary cylinder. The front axle features limited slip system and electro-hydraulic 4WD engagement for easy control.
Finally, McCormick's X4 Series now includes model X4-35 Tier 3 with Perkins Tier 3A engine, the utility model of the range also designed for the European markets.