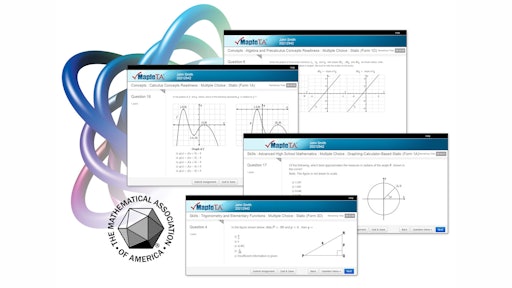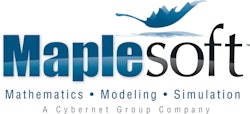 Maplesoft announces the release of the latest version of the Maple T.A. MAA Placement Test Suite. The Placement Test Suite is a collection of renowned placement tests developed by the Mathematical Association of America (MAA) and offered online exclusively through the Maple T.A. testing environment.
The latest release of the Maple T.A. MAA Placement Test Suite incorporates the results of recent research into methods for determining if a student is ready to handle upcoming courses. The MAA has developed new tests that can be used to determine if a student understands the mathematical concepts they need to succeed in algebra and precalculus courses. This release of the Placement Test Suite also provides additional variations of the Calculus Concepts Readiness Test.
Built on the recently released Maple T.A. 10, the Placement Test Suite includes an enhanced interface. All functionality is now accessible from standard web browsers on both computers and tablets, including iPad, Android tablets, and more. As well, the interface has been completely redesigned, incorporating customer feedback from both instructors and students to create a more streamlined workflow.
"The Maple T.A. MAA Placement Test Suite is an important component of Maplesoft's solutions for technical education," says Paul DeMarco, Director of Development for Maple and Maple T.A. "With the new Concepts Readiness Tests, our customers have more options when it comes to efficient, effective placement testing, and the new interface makes the experience even better for students, instructors, and administrators."
"We are pleased to be able to offer colleges and universities easy access to our assessment instruments through the Maple T.A. MAA Placement Test Suite," says Linda Braddy, Deputy Executive Director of the Mathematical Association of America. "The new Concepts Readiness Tests not only help place students in the classes best suited to their abilities, but they also help instructors identify crucial understandings and skills that students need for success in precalculus and calculus. The tests also can be used to identify concepts where students have weaknesses. As a result, faculty can offer students efficient, targeted help, allowing them to reach their goals faster."
The Maple T.A. MAA Placement Test Suite is available as both a Maplesoft-hosted or school-hosted solution, and can be used on its own or integrated with course management systems.