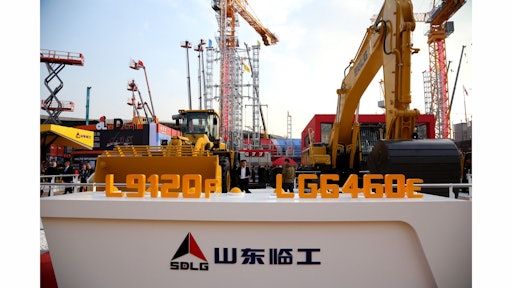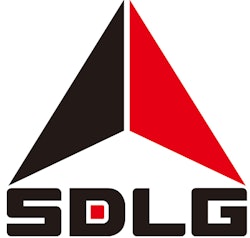 The SDLG booth at bauma China 2014 showed a mix of some of the brand's biggest sellers together with a number of new introductions, including two new innovative concept machines. The company also made a strong point of highlighting the depth of its range, showing units from across its product lines.
Guo Shaohua, SDLG Brand and Communication Director, says the company's attendance at this year's bauma China show was designed to highlight several of its key messages.
"There are three central messages we wanted to convey at bauma China 2014," he says. "First, is that we are a full line provider. We are well-known for our wheel loaders, and we're probably the world's leading manufacturers of these. But we also have a strong product portfolio spanning a wide range of other equipment. Second, we wanted to give the market some insight into our future development plans, so we had several machines on display that are new, or recently released, plus two concept machines, in the form of the L9120F wheel loader and the LG6460E excavator. And finally, we wanted to underline our ambition to be China's largest construction equipment manufacturer, so we took one of the largest exhibition spaces at the show."
Underlining its position as one of the world's leading producers of wheel loaders, SDLG showed nine units from this product line, including the L9120F concept machine. The other eight ranged from the 1 t capacity LG918 up to the 9 t capacity-rated LG989.
Among the wheel loaders on show was the LG938L, a 3 t capacity unit that is currently one of the most popular in the international marketplace. With its higher end design specifications, this unit is popular in construction, mining and aggregates applications. The ZF transmission offers four forward and three reverse gears, while the load-sensing hydraulics give the unit a smooth feel, making operations easier for the driver. It can be equipped with up to a 2.5 m3 bucket and maximum breakout force is 96 kN. The LG938L has customers worldwide, including in North America, Latin America and Asia-Pacific.
Another popular wheel loader pulling in the crowds at bauma China 2014 was the LG959F, notable as the first SDLG model to be sold in North America. The unit made industry history when it was delivered to Double K Excavating in Canada, after the company purchased the machine just weeks after SDLG launched in to the North American market in July of 2013. The unit has a 5 t capacity rating and maximum breakout force of 152 kN. It can be fitted with up to a 3.1 m3 bucket.
From the SDLG range of excavators there was an equally strong showing and, like wheel loaders, there were nine of these units on display. Also as with the wheel loaders, there was a high capacity concept machine on show, in this case the 46 t rated LG6460E.
Also of interest to many international visitors was the LG6300E, which has a 30 t rating and powerful digging force, making it suited to a range of heavy duty applications. The LG6300E can accommodate up to a 1.9 m3 bucket and combines that with a maximum excavation force of 193.5 kN for excellent job site productivity. In 2013, the LG6300E was launched into Africa and two of the first units were delivered to Morocco for work on a high-speed rail link. In addition to building excavators at its manufacturing headquarters in Linyi, China, SDLG excavators are also built at the company's manufacturing facility in Pederneiras, Brazil.
Elsewhere on the SDLG booth were several units from its range of road building equipment, including the G9190 motor grader, which was launched into the Indonesian market earlier this year. With an operating weight of 15.8 t and powered by a 148 kW Deutz engine, the G9190 can deliver traction force of up to 82 kN. Aside from the G9190 grader, SDLG also showed several pieces of compaction equipment from its road building range.
Aside from the popular best-sellers there were also new machines on show at the SDLG booth including the company's backhoe loader, the B877. This unit was launched to several markets in 2014, including Africa and the Middle East. The 8.4 t-rated machine has a host of features that come as standard, including a multi-purpose front bucket, 70 kW engine and air conditioning.
In total there were 25 machines on the SDLG booth, plus a large indoor information area, where customers were able to meet with company representatives and discuss their equipment needs.
"For us, bauma China 2014 was a great opportunity to underline the strength of our product line," says Shaohua. "Our focus on producing robust and reliable equipment at an excellent price is allowing us to grow our customer base and it's important that we grow our product line to support the ever increasing needs of our customers."