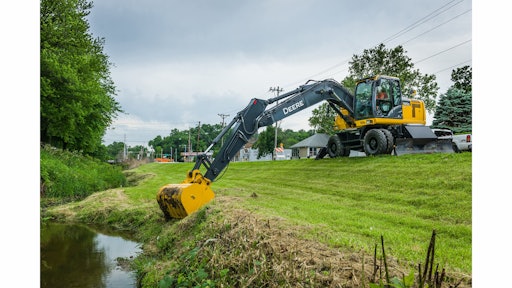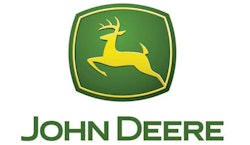 Dedicated to offering customers the most cutting-edge equipment and jobsite solutions on the market, John Deere introduces two models of wheeled excavators bringing added mobility and maneuverability to the jobsite. The models – 190G W, and 230G W – are equipped with a powerful, rugged EPA Tier 4 Interim engine, providing customers higher productivity, increased uptime, and lower daily operating costs.
"The 190G W and 230G W are the perfect 'Swiss Army knife' for a variety of work, whether it's clearing ditches, repairing sewers or potholes, loading trucks or moving Jersey barriers," says Mark Wall, Excavator Product Marketing Manager, John Deere Construction & Forestry. "The wheeled excavators have the mobility, speed and power to be the most versatile machine in your fleet."
The 190G W and 230G W feature a 159 hp certified Tier 4 Interim Isuzu engine. This quiet, durable and reliable engine is mated to the John Deere Powerwise III hydraulic engine management system that offers three productivity modes: High Productivity, Power and Economy mode, as well as a Power Dig and Auto Power Lift function. High productivity mode delivers more power and faster hydraulic response to move a greater amount of material. Power mode delivers smooth and balanced metering for normal operation and Economy mode reduces top speed and helps save fuel. For convenience, the Power Dig button allows an operator to get the extra hydraulic power to increase productivity.
"With wheeled excavators, a contractor can dig like a tracked excavator and get from point A to point B without having to invest in a truck or trailer," says Wall. "The 190G W and 230G W have a top speed of 21 mph and boast advanced rubber tires that are much friendlier to paved surfaces."
The Tier 4 Interim/Stage IIIB technology utilized in the wheeled excavators' diesel engine is simple, fuel efficient, fully integrated and fully supported. Seamless solutions include field-proven cooled exhaust gas recirculation (EGR) for reducing NOx and a diesel particulate filter (DPF) and diesel oxidation catalyst (DOC) to reduce particulate matter. The Tier 4 Interim Technology enabled John Deere to maintain or reduce fuel consumption, helping to lower daily operating costs.
Contractors can choose from a variety of boom, blade, outrigger and bucket options to equip their excavator exactly as needed to optimize setup. The G Series short wheelbase makes them very adept in close quarters – unlike wieldy truck-mounted excavators. For work close-up, operators can opt for the two-piece boom.
To increase uptime, John Deere designed the new G Series models with a more comfortable and spacious cab that comes equipped with an easy-to-navigate, enhanced multi-language LCD monitor that lets operators effortlessly dial-in a wealth of machine information and functionality.
Contractors looking to get the most out of their 190G W and 230G W excavators can rely on Ultimate Uptime featuring John Deere WorkSight. With Ultimate Uptime, operators receive pre-delivery and follow-up inspections; three years of JD Link telematics, machine heath prognostics, and remote diagnostics and programming capability; and the ability to add additional dealer-provided uptime solutions to customize the package to individual needs.