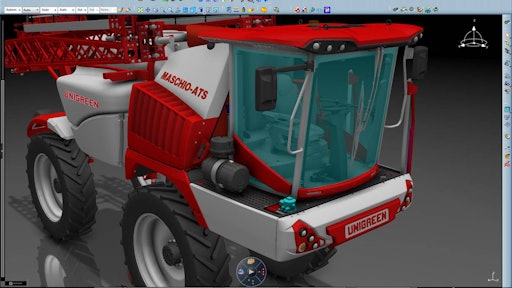 Maschio Gaspardo—an international leader in the production of agricultural equipment for tillage, seeding, crop care, green maintenance and hay making—will introduce several new agricultural machines and attachments at SIMA 2015.
TSUNAMI Self-propelled sprayer
Tsunami is the new Unigreen self-propelled sprayer that will make its worldwide debut at SIMA 2015.
Agility
Tsunami combines the benefits of a big tank with a stable and agile structure, equipped with an independent pneumatic suspension and coupling torsion; thanks to the four suspension system coupled to the thrust bearing, Tsunami ensures high stability in every condition.
High tensile steel frame
The Tsunami frame is made of high tensile steel; the basis of a long lasting and light sprayer. The chassis is divided in front and rear sections, connected by a special bearing, and all parts are connected with a bolt. The frame design and the new independent air suspension ensures the smoothest of rides and minimizes boom movement.
Big size for big achievements
Tsunami is a giant, measuring 8.75 m long and 3.95 m tall, with a tank capacity of up to 5,200 liters and boom up to 42 meters in width. Indeed, the ground clearance is remarkable (1.60 m) and allows the machine to run even in advanced plant growth. Huge, but also very agile, the sprayer steers with an internal radius of about 3.75 m.
The Cab
Tsunami cares also for the safety of the operator, guaranteed by the new cab class IV, with certificated ROPS structure. The cab is pressurized to avoid accidental inhalation of the product.
Maschio-ATS
Powered by a Stage IV FPT 250 hp engine, Tsunami features the unique MASCHIO-ATS system which is a new exhaust gas treatment device, developed by MASCHIO and approved by FPT.
TALPA Self-propelled digestate/slurry applicator
Innovation
Digestate produced from silage corn, slurries or mixture, reveals a surprisingly high and valuable nutrient value (N-P-K- Ca-Mg-Mn, etc.). Its average nutrient content can totally or partially replace the mineral fertilization. The correct application of this resource can thus bring important economic benefits to the farm, in order of some hundred euro per hectare.
The conventional spreader (e.g., pull-type) can run only on bare soil or at very early crop growth. Specially in autumn operations, the most soluble elements (nitrogen and lime) can be leached, polluting underground water tables. The mineral fertilization the next spring is thus needed to reach the yield potential.
Talpa is the revolution for digestate and animal slurry distribution in field. Thanks to ultra-high soil clearance, this self-propelled digestate/slurry applicator can run in row crops even in later stages of stem elongation and improves dramatically the efficiency of nutrients applied with organic effluents.
Identikit
Even though large in size, Talpa has an incredible inner steering radius of only 4 m, less than a city car. This means high maneuverability and low crop damages.
The secret? The combination of an articulated frame and steering system on a third axle. Moreover, the special hinging connection allows rotation on the vertical axle allowing the machine to adapt to most irregular soil profiles.
The three-axle configuration with six large diameter wheels reduces soil compaction (only 2.8 kg/cm2 of load). The special hydrostatic power transmission has an emergency brake function that can stop a fully loaded machine at top speed (40 km/h) in less than 15 m.
The six or eight row distribution device has a high clearance frame (1.650 mm) to operate on tall plants. The grinding header spreads homogenously the semi-solid product in six or eight rows.
The driving cab has a 180-degree panoramic windshield; the 2 m high driving position allows the best point of view even when working on taller crops. The multi-control system on the right-hand side of the driver seat has a 12 in. touchscreen monitor, a joystick and a button console that allow access to all functions of the machine. The ECM isolation of electronic components is the result of particular care and testing. This feature prevents any failure under strong electromagnetic field.
A giant…featherweight
With Talpa, dimensions are important. The applicator measures 9.5 m long, 2.5 m wide and 4 m tall, and weighs 26 tons (full load).
Huge, but also very agile, Talpa steers with an internal radius of about 4 m; Talpa's six drive wheels allow a specific pressure of just 2.8 kg/cm2 to reduce trampling as much as possible.
Digestate: a "green" resource to be enhanced
The concept of Talpa is to exploit the full potential of biogas plants and, at the same time, meet the demands of the European Community concerning a more sustainable agriculture.
The possibility to distribute digestate even in the stages in which crops with great biomass (like maize, sorghumor, sunflower) are at the top of their efficiency and nutrient intake, allows a complete enhancement of the machine, that becomes a source of income for the plant.