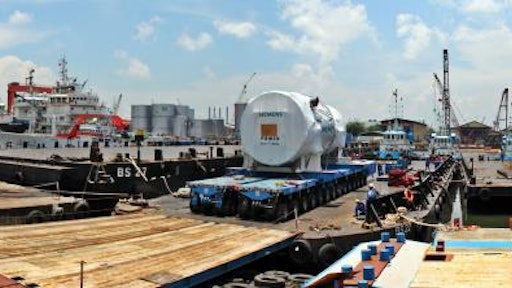 Due to the recent installation of a new gas turbine power plant, the Tuaspring Desalination Plant in Tuas South, Singapore, can now produce the precious raw material of water with far greater efficiency than was previously possible. At the heart of the system is the 310 t gas turbine which TII customer, Bok Seng Logistics, transported on SCHEUERLE SPMTs (Self Propelled Modular Transporter) from the Bok Seng Logistics Marine Base to its place of operations in the desalination plant.
The daily desalination of 318,500 cubic metres of water requires enormous amounts of energy. In order to be able to efficiently generate this high level, the operating company decided in favor of a Siemens gas turbine with dimensions of 11 m x 5.2 m x 4.8 m and a total weight of 310 tonnes. Transportation by barge and on SCHEUERLE SPMTs was taken on by Bok Seng Logistics, a long-time satisfied customer of the TII Group, a globally operating enterprise which includes NICOLAS and KAMAG in addition to SCHEUERLE.
Firstly, the gas turbine was lifted off a cargo ship by crane onto a barge and taken from the harbour in Tuas South to the Bok Seng Logistics Marine Base. On arrival, it was loaded on the 28 axle lines of the SCHEUERLE SPMTs and driven along the coast to the Tuas South industrial area. "For challenging transportation assignments, transport companies around the world are very pleased to rely on our SPMT product groups. Its worldwide availability and technical reliability provide our customers with the opportunity and required safety to have a reliable means of transport available at any time and any place," says Matthieu Jannick, Area Sales Manager at TII Sales, the sales and distribution division of the TII Group.