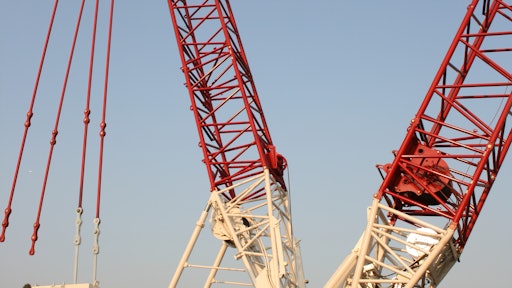 Manitowoc cranes have become integral to many of Brazil's most thriving industries. Across the country, Manitowoc crawler cranes and Grove rough- and all-terrain cranes are helping fuel the country's economic growth in a diverse number of projects.
A great example of this is at the Usiminas steel plant in the city of Cubatão, in the state of São Paulo. Located in the coastal mountains of Southeastern Brazil, the plant was due for a major overhaul when a Manitowoc 18000 was specified to perform a host of restoration and maintenance duties.
Work on the 52-year-old facility included the installation of a new 104 m (341 ft.) chimney tower, new lattice steel structures, and maintenance to a dome-shaped roof.
Centro Técnico de Manutenção Industrial (CTM), based in Cubatão, was in charge of the lifts. Guindastes Tatuapé supplied the crane as a rental to the company, and its engineers helped plan the lifts.
The 600 t (660 USt) capacity crawler crane (750 t [825 USt] with MAX-ER attachment) was chosen for its versatility, reach and hefty capacity, explained Luciano Dias, Manitowoc's Vice President of Sales in Brazil.
"The Manitowoc 18000 was selected to complete the lifts at Usiminas because of the crane's flexibility and its generous specs, which provided the contractor with plenty of flexibility to tackle this demanding project," he says.
One of the biggest challenges on the job site was the crane's positioning. Tight working quarters between steel mill piping structures left only 22 m (72 ft.) of space to maneuver. The Manitowoc 18000, though, provided an ideal solution — the crane features a compact 10 m (33 ft.) tail swing that enabled it to navigate the narrow workspace, but still provide ample capacity to complete the heavy lifts.
The crawler crane was rigged with 91.4 m (300 ft.) of boom to accommodate the large lifts on the congested facility grounds.
"The crane performed flawlessly due to its compact footprint and robust body, which kept the lifts stabilized and precise," says Marcelo Monteiro, Sales Manager at Guindastes Tatuapé.
Several experts from both CTM and Guindastes Tatuapé, along with those from Manitowoc Cranes were tapped to plan the lifts over a 10-day period. Monteiro said that without input from Manitowoc Cranes, including technical and logistical support, the project would not have been completed with such efficiency and ease.
"Our evaluation of the lift jobs, on a scale of 0 to 10, is a 10," Monteiro says. "Everything went as planned, as all steps were reviewed diligently to assure success. The project reached its goals on schedule and without unwanted surprises."
Usiminas, headquartered in Belo Horizonte, in the state of Minas Gerais, is the largest manufacturer of flat steel plates in Latin America and is the market leader in Brazil. The Cubatão unit, in operation since 1963, covers an area of about 13 km2 (5 mi2) and produces 4 million t (4.4 million US) of crude steel per year. The company constantly invests in the modernization of its units and in different ranges of cutting-edge products, in line with the latest advances in research and application.
Founded in 1960, Guindastes Tatuapé is one of São Paulo's leading lifting companies, with experiences in some of the largest infrastructure projects in Brazil. In addition to the 18000, Guindastes Tatuapé owns four Grove cranes, including three all-terrain cranes—a GMK6300L, GMK6250L and GMK5220—and a RT765-E rough-terrain crane.