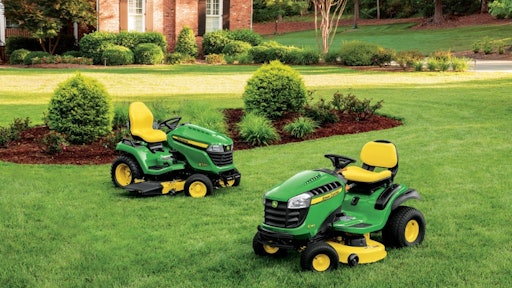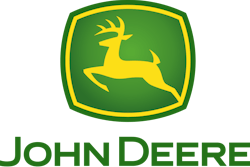 This spring, John Deere is adding five new models to its residential mowing portfolio. The latest models offer something for every customer, regardless of the size of their lawn, or budget. Additions include the all-new John Deere S240 Sport lawn tractor and extensions to the popular John Deere Select Series, 100 Series and EZtrak lines.
"We know weekends are precious," says Kim Ridel, Product Marketing Manager at John Deere. "Whether you enjoy the time spent on your mower smelling the fresh-cut grass or you just need to get the mowing done, John Deere has the right mower for you."
The S240 Sport lawn tractor offers premium features that are priced right for the weekend warrior who wants a little something extra. The model boasts a powerful 18.5 hp V-twin Kawasaki FS Series engine, K46 hydrostatic transmission and electric power take-off (PTO) engagement. For optimal operator comfort, the S240 Sport is equipped with a premium steering wheel and a 15 in. open-back, adjustable seat. Larger tires with a premium tread pattern are designed to decrease scuffing and enable easier steering.
For great cut quality, even on the toughest terrain, the John Deere X590 Select Series Lawn Tractor, with constant-speed governor technology, delivers on performance and power. In high grass, when the load increases, the engine speed remains constant thanks to the powerful Kawasaki FS Series engine with electronic fuel injection that provides plenty of power and torque. Power steering provides excellent maneuverability, with an uncut trim radius of only 13 in. (with 54-inch deck).
Offering the power, precision and quality that are just right for your lawn and budget, the John Deere D155 riding lawn tractor offers a 48-inch deck and a powerful 24 hp V-twin engine. Cruise control, hydrostatic transmission and two-pedal foot control are familiar auto-inspired features that make operation easy. A high-back seat with lumbar adjustment and a deluxe steering wheel provide operator comfort.
Homeowners can mow like the pros with John Deere's EZtrak zero-turn radius mowers. Two new models, the Z435 and Z625, provide more options to cut grass and reduce mowing time. A 48-inch and 54-inch deck are available for the Z435, which boasts a 25 hp cyclonic engine and reaches speeds up to 8.5 mph. The Z625, with John Deere's exclusive high-capacity mower deck, features a premium 21-inch seat for added comfort.
"The addition of these products means that John Deere has the right mower for you," saYS Ridel. "If you're unsure which model would best meet the needs of your lawn, and your wallet, visit a John Deere dealer to take a few models for a spin."