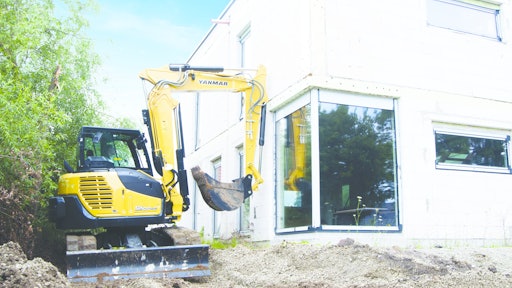 Yanmar Construction Equipment Europe launches another new product at this year's NordBau in Neumünster, Germany: The SV100 2-Piece Boom (SV100 2PB). High performance, unique design and ease of operation are the key characteristics of the new Yanmar excavator with a two-piece boom. The articulated boom configuration drastically enhances the performance of the Yanmar SV100 – particularly in lifting, moving and placing loads.
Originating from heavy wheeled excavators, the added articulation of the boom improves the maneuverability of the machine and its ability to place loads with precision. The additional weight resulting from the articulated boom configuration has been limited to 845 kg including the additional counterweight. It contributes to improving the machine's lifting capacity by up to 45% in some areas of the load chart.
Yanmar decided to reversely mount the cylinder of the boom articulation. Combined with high working pressure of the SV100 2PB, this furnishes the machine with outstanding break-out force. The orientation of the boom articulation cylinder also enables the operator to raise the boom faster and to lower it more slowly - optimal for positioning of loads. The Yanmar product development decided for a unique solution: The SV100 2PB is fitted with a single top mounted boom articulation cylinder. This configuration guarantees a total protection of the cylinder rod thus reducing the risk of damages. The machine's maintenance has also been facilitated with reducing the number of greasing points by 50%. All of this results in a reduction of the total cost of ownership (TCO) of about 50 per cent. 
Furthermore, the use of a single top-mounted articulation cylinder enables reduction of the machine's dead weight by 50%, thus improving the stability of the SV100 2PB. The very sleek structure of the boom provides the operator with good visibility – actually, with the best of its class in the market. In order to improve the operator's comfort and the maneuverability of the articulated boom, Yanmar decided to put the control for the articulation on the left joystick with a proportional switch. This also contributes to increasing safety with the help of very precise control.