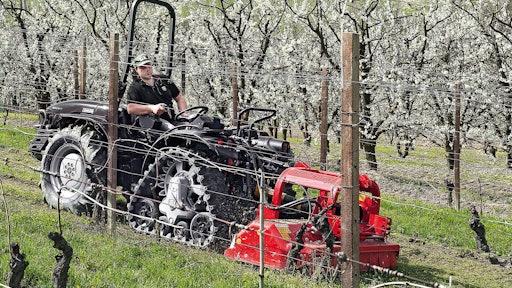 Antonio Carraro comes to Bari with an incredible charge of optimism. In a very positive year, for Agrilevante the Campodarsego producer brings up the excellence of tractors for Mediterranean agriculture. After the start of production in September, the brand-new T Major Series will be showcased to the whole Mediterranean- and Balcan-area visitors expected to attend the show. Along with the new models and the wide range of compact and specialized tractors, visitors will get a close look at some of the most innovative tractors of the Antonio Carraro range, like the track-and-wheel steering reversible MACH 2 or TGF with the pressurized cab Protector, the only low profile cab with Category 4 certification.
TN Major
A steering tractor with a low center of gravity ACTIO chassis and a power-assisted steering system. The gear is a 12+12 synchronized with reverser and fully independent PTO, ideal for having equal forward and reverse speed and stopping without stopping the PTO. TN offers a roomy, easily-accessible driving position and a clean, uncluttered central tunnel. The new bonnet gives easy access to the engine compartment for maintenance. Separate access to the battery and air filter makes servicing easier. Available versions: TN 5800 – 50 hp, 4 cylinder Yanmar; TN 6400 – 56 hp, 3 cylinder Turbo VM.
TC F Major
A tractor for specialized farming in level grounds, hills and mountains, with grip, agility and compactness on steep, irregular grounds. TC F offers the maximum comfort with a wide, obstacle-free driving seat, cozy for operators of every size. Available in two versions (TC 5800 F – 50 hp, 4 cylinder Yanmar; TC 6400 F – 56 hp, 3 cylinder Turbo VM), TC F offers several hydraulic system and tire options, suitable to every requirement: surely, the best cost benefit ratio for today's farmer.
SN V Major
The isodiametric, articulated tractor SN V offers ergonomics, reliability and versatility in a simple, safe and massively productive machine. The aggressive design (smooth lines, wrap-around fenders and flush sides) supports its agility. The tight steering radius and the comfortable, obstacle-free driving seat are the top features offered by SN, along with several hydraulic and tire options. Available versions: SN 5800 V – 50 hp, 4 cylinder Yanmar; SN 6400 V – 56 hp, 3 cylinder Turbo VM.
TGF Ergit S/Ergit 100
The super low profile Antonio Carraro tractor, built to work with agility in narrow lines and low canopies, grants a very narrow turning radius. It is the ideal tractor for working in the thickest orchards, in tendone vineyards, inside greenhouses and steep grounds, even with great side slopes. TGF is also available with Protector, the only low cabin with certified Category. 4 pressurization, the best insulation level ever achieved in an agricultural tractor. Available versions: 7800 S (71 hp), 9400 S (87 hp), 9900 Ergit 100 (89 hp), 10900 Ergit 100 (99 hp).
MACH 2
A steering reversible tractor with rear rubber tracks and front 20-inch wheels, designed for grounds where constant grip, traction, stability and safety are required. The track/wheel combination allows difficult maneuvers – unimaginable for a four-wheel tractor – simply and safely even in steep slopes, muddy grounds and hostile weather. Features a width of 1,440 mm, weight of 2,915 kg, low center of gravity and a wide range of options such as the StarLight cab. MACH 2 is a unique tractor, which faces any challenges quickly and safely. The engine is a Yanmar 4 cylinder Turbo, 87 hp.
SX Ergit S
One-direction, isodiametric tractor. The articulated chassis and the narrow track ensure extraordinary operating performance in small spaces, along the corridors between rows, when turning headlands and inside greenhouses. The 4 driving wheels assure constant adherence and drive in all situations. Available versions: SX 7800 S (71 CV) and SX 9400 S (87 CV) with wheels up to 24 in.