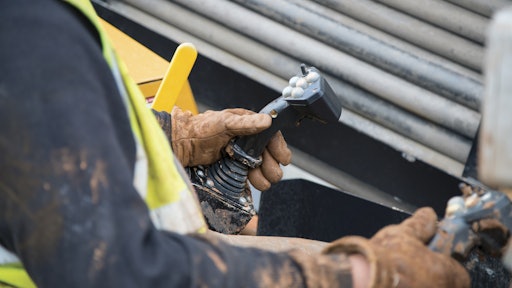 The Vermeer D23x30 S3 Navigator horizontal directional drill (HDD) packs speed and power into a shorter, narrower design to help increase productivity when working in urban areas or compact job sites. With 24,000 lbs. (106.8 kN) of thrust and pullback and 3,000 ft.-lbs. (4,068 Nm) of rotational torque — an impressive increase over its predecessor, the D20x22 Series II Navigator HDD — the D23x30 S3 is equipped to maximize machine and job site efficiency.
Speed, simplicity and sound are the trademarks of the Vermeer S3 generation of directional drills. Each S3 model has been redesigned by listening to customer input to achieve sound reductions, enhanced speed and a simplified design.
The D23x30 S3 offers significant gains in sound reduction, making it well-suited to working in congested commercial and residential areas, as the quieter working environment makes for less neighborhood disturbance. With a 99 dBA guaranteed sound power level and an operator ear rating of 78.7 dBA, the D23x30 S3 is one of the quietest drills on the HDD market.
A carriage speed of 206 fpme (62.8 m/min), and a rotational speed of 219 rpm — which rivals larger drills — and enhanced rod breakout efficiency will help contractors install more linear feet per day. The D23x30 S3 also offers a ground tracking speed of up to 3.3 mph (5.3 km/h) to help contractors get from one project to another faster.
To power the D23x30 S3, Vermeer has selected a 100 hp (75 kW), liquid-cooled, turbocharged diesel Deutz TCD 3.6L4 Tier 3/Tier 4-compliant engine, which is capable of producing greater power than its predecessor.
"The D23x30 S3 is the ideal drill for utility installations up to 6 in. (15.2 cm) in diameter and in compact or congested areas," says Jon Kuyers, Senior Global Product Manager, Underground, for Vermeer. "The D23x30 S3 helps address today's operational challenges and provides a low cost of operation due to its power-to-footprint ratio."
A common control system currently used on the larger Navigator drill lineup is featured on the D23x30 S3 drill. This includes a digital display, improved on-board diagnostics and common joystick controls. The system design uses a power distribution module that reduces the amount of wiring and fuses for greater reliability. All S3 Navigator drills have a common control platform, assisting drill operators in operating a variety of S3 drill models and lessening the time needed for training.
An on-board self-diagnostic system empowers contractors to make machine adjustments when required and helps to maximize productivity. The Vermeer InSite Fleet remote monitoring system is optional on the D23x30 S3. InSite Fleet is available now.
Contractors have two 10-ft. (3 m) Firestick drill stem options to configure the drill for different types of work — for longer runs, a 2.06-in. (5.2 cm) diameter drill stem is available and provides improved flexibility in tight bore requirements. When pulling back larger product or for compatibility with rock tooling, contractors can select a 2.375-in. (6 cm) diameter drill stem that offers a better flow path for improved air hammer efficiency and flexibility for rock drilling applications.
Improved rotation, thrust and tracking performance is the result of an enhanced hydraulic system that helps to increase the system's efficiency, allowing better use of engine horsepower and increasing the drill's productivity.
Daily maintenance has been simplified with all service points located on one side of the drill and easily accessed via a rugged hood design.
The D23x30 S3 directional drill is now available through the Vermeer global dealer network.