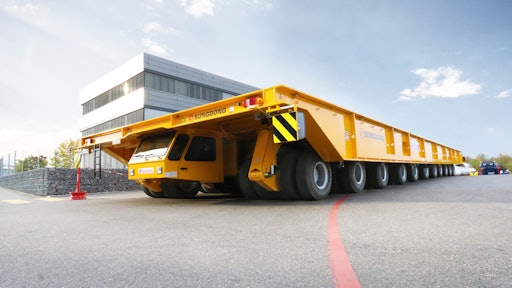 Several days ago, a yellow-painted colossus left the SCHEUERLE Fahrzeugfabrik production facility in Pfedelbach and headed to Heilbronn. For the transportation of the ship section transporter with a 800 t payload along the route to the harbor, great precision was required as the almost 8-meter wide and 30-meter long vehicle is anything but easy to manage on the roads.
The ship section transporter will be used at the shipyard premises of the Sungdong Group in the South Korean coastal city of Tongyoung. Equipped with 26 axles, it moves large ship segments positioning them for final assembly or moving them back and forth between different production facilities on the site. In this respect, technical reliability and a high level of safety are particularly important. As a result, the transporter is not only fitted with monitoring and warning systems for closely checking the center of gravity, load and inclination but also reliably protects drivers in the cab mounted below against noise, heat and cold, and draws their attention to any possible vehicle operating errors.
"The highest demands are placed on our ship section transporters in terms of process reliability as costly failures and associated downtime is today something that no operator wants to risk," says Ralf Grützmacher, Area Manager Sales at TII Sales, the joint sales and distribution company of SCHEUERLE, NICOLAS and KAMAG which together make up the TII Group. "Especially in tough operating conditions such as high humidity, high salt content in the air and constantly changing temperatures, our transport solutions enjoy a well-earned reputation for their high degree of reliability for avoiding breakdowns and malfunctions. We ensure this through the use of high quality components and a closely monitored quality control throughout the entire manufacturing process. We also take great care during the transportation to the customer by safeguarding the entire vehicle in order to protect it against the weather, thus ensuring that it arrives in perfect condition at its final destination."
For the realization of the transport solutions at the TII Group, the longstanding experience of all three sister companies are incorporated. In the process, the TII Group supplies a wide range of industries with a broad spectrum of pulled and self-propelled vehicles, and is the world market leader in the development and production of vehicles with hydraulically driven pendulum axles. Apart from ship section transporters, Self-Propelled Modular Transporters (SPMT) are also in frequent use in shipyard operations. With these modular transport systems, virtually any large loads can be carried and transported. Depending on the purpose, a single or multiple-coupled ship section transporter or one SPMT could provide the ideal solution for a particular transport assignment in the shipyard.