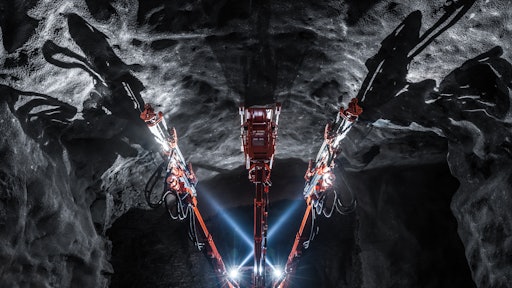 Early in 2015, Sandvik Construction introduced its latest tunneling jumbo, the DT922i. According to Tommi Salo, Product Line Manager of Tunneling Drills at Sandvik, the new machine design came about in part due to the need to provide customers with improved maneuverability. "We have had a well proven jumbo model with fixed carrier before, but the challenge has been the flexibility of it in the smaller tunnels," he explains.
By adding an articulated carrier onto the jumbo, the machine now has a smaller turning radius in comparison to that of a wheel or axle steered carrier, enabling it to more easily maneuver through space-constrained spaces.
While maneuverability was a key design criterion, Sandvik added several other new features to the machine, as well, in order to further enhance its customers' experience. The goal, says Salo, was to provide customers with an all-around vehicle that would allow them to complete all of their required tasks within the tunneling site including face, probe, injection and bolt hole drilling.
Features which aid with this include a hydrostatic transmission system with joystick control for precise, dynamic control of the jumbo's tramming speed and steering, as well as a multi-voltage concept which enables operators to quickly and easily shift to different work sites with varying electric voltages.
More productive and efficient operation
Two automation packages are available for the DT922i which facilitate drilling by allowing operators to program a drill plan the jumbo's drill then follows. Both the standard gold and enhanced platinum packages include features such as torque-based drilling, drilling to a predefined depth and rig navigation. "We recommend using automated boom movements in most tunneling applications because the drilling time is more predictable and the drilling accuracy is better," Salo says. However, if automation is not required, operators can easily switch to the manual control mode.
He says the key difference between the two package options is the automated boom movements included in the platinum package such as full automatic face drilling with Sandvik's iDATA program.
Both automation packages make use of the company's iSURE drill planning software. It combines tunnel line, theoretical profile design, drill plan design and data collection analysis into a singular program for improved operator productivity. "It optimizes drill and blast pattern for the best economy, accuracy and profile quality in any tunneling application," says Rick Robinson, Sales Manager, Direct Business USA/Canada at Sandvik.
Improving the operator experience
Improving visibility was an important element for Sandvik when designing the new tunneling jumbo. Development of a completely new operator cab enabled the company to improve visibility 25%. Increasing the amount of window area through which operators could see was an integral part of this, which Salo says was achieved by using targeted visibility simulations. In addition, Sandvik fine tuned the position of the cab to ensure it was placed at the best possible view point.
An optional cabin lifting system also aids with visibility by enabling operators to move the cab up or down as necessary. Salo says this feature's main purpose, however, is to allow operators to decrease the overall height of the rig during drilling or tramming to more easily operate in lower areas of a tunnel without compromising visibility.
When designing the new operator cab, the company used acoustic windows and materials specifically geared towards reducing noise. Doing so allowed Sandvik to reduce noise levels to under 69 dB and minimize the amount of dust which enters the cab. "Measurements show reductions in actual noise levels inside the cabin [make] this the most silent jumbo cabin on the market today, as far as we know," says Salo. He adds that the company has also received positive feedback from operators during field trials as to the quietness of the machine's cab.
Comfort enhancements to the cab included a focus on ergonomic placement of handrails and controls, as well as making control panels and displays fully adjustable. Additionally, legroom was maximized through the inclusion of joystick steering which removed componentry that would have otherwise taken up space within the cab. The width of the doorways was widened, also, along with the space between the operator chair and drilling control panel to further enhance comfort levels.
Focusing on EHS
Environmental, health and safety (EHS) issues played a large part in guiding the design of the tunneling jumbo. Designing the cab in a manner that enabled noise and dust to be reduced, for example, ensures operators will be safe from the elements in which they're working and their health will not be compromised.
Building the cab out of steel, as well as having it be FOPS (falling object protective structure) certified also aids in keeping the operator safe. Other safety features include a hold hill mode for the hydrostatic transmission and the integration of the necessary components for remote operation should a customer choose to employ that capability.
For improved energy efficiency, Sandvik integrated IE3 electric motors, LED lights and a reactive-power compensation unit on the jumbo. Depending on where the machine will be used, customers have the option of either a Tier 3 or Tier 4 Final engine, both of which are designed to provide fuel efficiency and reduce emissions.
Companies in this article