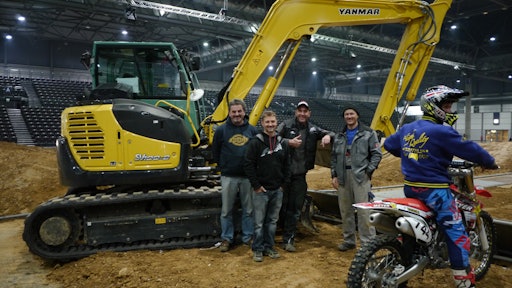 A high-power compact excavator by Yanmar Construction Equipment Europe S.A.S. (Yanmar CEE) was used for the seventh edition of Kings of Xtreme SuperCross, which took place on November 6 and 7, 2015 in Leipzig. Once again, the team of SX Race Track Design has relied on Yanmar's high quality products to prepare the demanding racecourse. Creativity and machine power of the two partners provide the basis for spectacular motocross shows with breathtaking stunts.
One machine, many jobs
The Yanmar excavator SV100-2 carried out various tasks during the track construction. First, it spread the loam and soil on the course ground with 7,500 sq. m - Europe's biggest indoor motocross track. Then the compact machine evened the circuit of several hundred meters and shaped numerous hills and obstacles for the riders' impressive jumps. The Yanmar excavator is ideally suited for the job: its asymmetric crawlers with large bearing surfaces offer maximum stability even on steep slopes. Around the course, the SV100-2 distributed numerous paillasses to border the track.
"For 20 years, we have been relying on Yanmar machines to execute our ideas," says Joachim Mittag, Managing Director SX Race Track Design. "The excavators combine the performance of a heavy excavator with the advantages of a compact machine. Thus, we can use them everywhere."
Frank Thoss, Area Sales Manager Yanmar Germany and Poland, says, "Projects like this are fun. Moreover, they show how versatile our machines are. The excavators have to meet highest demands of flexibility and performance – just like the riders."
The seventh edition of the Kings of Xtreme SuperCross is the kick-off event for the motocross indoor season in German speaking countries. It took place at the beginning of November at Messe Leipzig. Winners of previous Kings of Xtreme events and German supercross champions joined the national and international teams. Between the races in different classes, a program including spectacular show elements took place.
SX Race Track Design plans and builds all indoor and outdoor courses for the SX cross series in Europe and Asia.