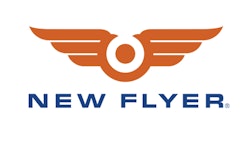 New Flyer of America Inc., a subsidiary of New Flyer Industries Inc., the leading manufacturer of heavy-duty transit buses in the United States and Canada, announces that the Metropolitan Council of Minneapolis, St. Paul, MN, exercised options for 30 heavy-duty 60-foot Xcelsior XD60 clean diesel buses (or 60 equivalent units or EUs).
Metropolitan Council is the regional policy-making body, planning agency and provider of essential services for the Twin Cities metropolitan area, with a mission to foster efficient and economic growth for a prosperous region.
The contract, originally signed in March of 2014, was a firm order for 83 XD60 60-foot articulated buses (166 EUs), with options for up to 88 additional XD60 buses (176 EUs).
"We appreciate our long-term relationship with Metro and are excited to be contracted to build additional Xcelsior XD60 buses for them," says Paul Soubry, President and Chief Executive Officer of New Flyer. "Metro is a first class transit organization and we are very proud to be able to build buses in the same community where they will be operated. We are excited to see the growth in Metro's Bus Rapid Transit service and appreciate the confidence expressed in New Flyer. Built for Minnesotans by Minnesotans."
NOTE: All dollar amounts are stated in U.S. currency.