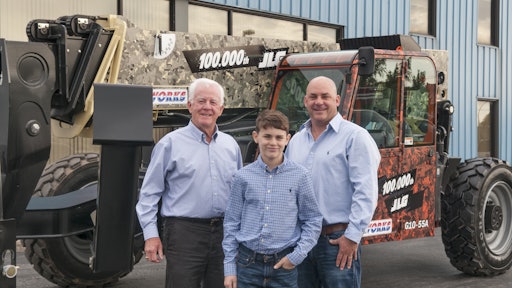 Sixteen years after the first telehandler rolled off the production line, JLG delivered a specially designed commemorative 100,000th telehandler to Skyworks LLC of Buffalo, NY. The modified G10-55A was the one and only commemorative telehandler built in North America.
This is not the first time the equipment rental company has received a piece of JLG history. Skyworks purchased JLG's 100,000th boom lift in 2006 and took delivery of the first JLG 1850SJ Ultra Boom lift, the world's largest self-propelled lift, in 2014. What's more, Access Rentals – founded in 1974 by the father of Jerry Reinhart, President and Founder of Skyworks – purchased a JLG lift commemorating the nation's bicentennial in 1976.
"We are quite excited to receive this special G10-55A," says Reinhart. "We're a family-owned business with a long and successful relationship with JLG that spans three generations. I remember standing with my father when he received the bicentennial lift, and today my son was present when JLG delivered the commemorative G10-55A. This latest acquisition underscores our commitment to the company and their commitment to us."
"Our relationship with Skyworks dates back to the company's founding," says John Boehme, Product Manager, Telehandlers, JLG. "It's a relationship we value, not only for the business it brings to us, but also for the opportunities it presents to celebrate together as we reach important milestones like this one."
With a lift capacity of 10,000 lbs. and a maximum lift height of 55 ft., the G10-55A telehandler offers power, versatility and innovation on the job site.
"It outperforms all other telehandlers in the 10,000-pound category," says Reinhart. "Because it is so versatile, it's usually the first machine on a job site and the last machine to leave."