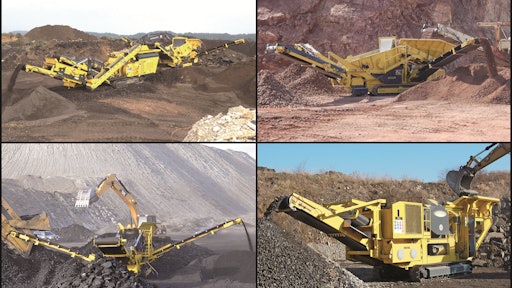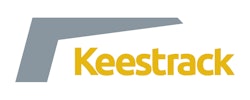 Keestrack is presenting itself at bauma 2016 (Open-Air Area North at Stand 817/2) together with a new company logo, new nomenclature and premiering numerous new machines and model updates across its entire broad-based program of mobile processing technology. The international manufacturer based in the Belgian village of Munsterbilzen is presenting a total of six track-mounted crushing and screening units, impressively reinforcing its position as a globally operating full-liner with highly flexible solutions for mineral recycling and the commercial production of stone construction materials.
20 years as the motor of innovation
Founded in 1988, sales and service enterprise Keestrack Group is now managed by its current owners Kees and Annet Hoogendoorn. The company set a true milestone with its very first self-developed machine in 1996: the world's first directly loadable track-mounted screening plant had an impressive high level of on-site mobility, high flexibility in feed material and a high level of reliability in harsh building sites or quarrying conditions, setting standards for mobile processing that still apply today. At the same time, the compact concept was also the blueprint for the further development of Keestrack screening technology. Today's program comprises a total of eight well-structured coarse-screening and production-screening plants with hourly capacities of up to 800 t/h, which since 2001 have been produced at the Keestrack Group's own factory in Šternberk in the Czech Republic.
Moreover, the constant expansion of its own construction capacity accelerated the development of the Keestrack mobile crushing unit. The first track-mounted Destroyer impact crusher unit in 2004 marked the company's entry into the crusher segment – the acquisition of Italian jaw-crusher specialist OM and the launch of Keestrack's first cone crusher boosted the development of a cross-technology range of crusher units from 2010. In doing so, OM's product range was fundamentally revised, in particular with respect to material feed, transport weights and ease of operation. Innovative power units and efficient add-on screening units render third generation crusher units even more efficient, and the new, optimized cone crushers also mean that Keestrack has a strong position among the leading suppliers in the international mobile crusher market. In 2015, sales of crusher units was the first time they exceeded the sales of screening units in Keestrack's overall turnover.
Everything from a single source
Keestrack is managed centrally from its Belgian headquarters in Munsterbilzen and employs a total of around 600 manufacturing staff at three sites: its European factories in Šternberk and Ponzano Veneto and (since 2007) its Chinese branch in Anhui. All factories have their own construction departments and achieve high production depths, even transcending pure steel construction. "This enables us to achieve very high levels of flexibility in development, production planning and final output," Kees Hoogendoorn explains, expanding on the quite unusual approach of these time-dependent outsourced engineering services, investment-optimized external production and lean final assembly activities. "We simply have shorter development cycles, assisting our own highly-qualified manufacturing specialists to achieve market readiness even sooner." This, Hoogendoorn explains, is one of the advantages that helped Keestrack to realize the very short-term introduction of its successful Stacker range of track-mounted stockpile conveyors with ranges of up to 23 m.
This also translates naturally into the ongoing further development of existing model series. "In today's track-mounted range of machines of working weights of up to 60 tonnes, we are a clear leader in the integration of low-emission, hybrid or all-electric power units. And not just with high-priced showcase models, but also across all performance classes with proven series technology, geared to our customers' good business practice," Hoogendoorn says. In addition to the early introduction of low-consumption load-sensing hydraulic modules in all of Keestrack's mobile diesel driven units (ECO FS), five series of screener units and two crusher models with hybrid or all-electric drive units ECO EP or EP+ are already available today.
"Today's machine options have developed much further than easily achievable on-top retrofits. Someone investing in a new machine will expect a tailor-made solution at economically favorable conditions and timely delivery," Hoogendoorn says in regards to the exceptionally versatile 'customizing' options for Keestrack's customers. All models actually offer comprehensive lists of options, which besides the usual 'extras' such as radio remote control, dust suppression or lighting systems also include items that can be used to adapt the machine in question precisely to the production cycle and specifications. This particularly includes XXL charge hoppers, extended stockpile conveyors or modified screening geometries. "In extreme cases, will we discuss with the customer how to configure a machine on the basis of the basic model, and this machine will far exceed the original capacity levels under the specific operating conditions," Hoogendoorn explains. For example, Keestrack supplied emissions-optimized coarse screening plants, which as the results of considerable modifications (greater screening pitches, efficient screening drive etc.) now achieve a peak performance of 1,200 t/h while prescreening defined quarry material (original: approximately 600 t/h).
Global partnerships
Of course, this strategy demands a high level of sales and service competence that Keestrack can guarantee thanks to its own operations in the large market regions of Europe, North America and East Asia, thanks in particular to a fine network of more than 65 partners in approximately 46 countries around the world. "In addition to a major presence in their respective market, we expect our partners to provide rapid and reliable support to our customers, who are actually operating our equipment as their key machines," Hoogendoorn summarizes in regards to the preconditions for Keestrack's many dealer partnerships, some of which have spanned many years.
Investments in the global after-sales field are correspondingly high: Keestrack currently supports five trans-regional logistics centers with highly qualified product and service teams, which together with the specially trained customer service experts of the dealers guarantee component supplies and service. "Our success lies in the high level of mobility and flexibility of our sustained technology – we have to allow ourselves to be scrutinized against our level of long-term service to the most remote of areas," Hoogendoorn says; the great importance of effective customer service, the constant optimization of which is at the core of the company's long-term global strategy.