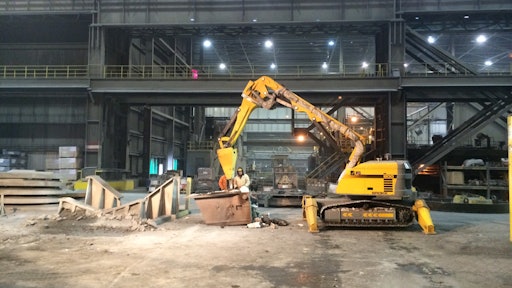 Brokk Inc.'s first Brokk 800P demolition machine in North America completed its inaugural year of operation at one of TimkenSteel's Ohio steel plants. The Brokk 800P is a sister product to the Brokk 800S and made specifically for the metal process industry. It is the manufacturer's most powerful demolition machine on the market. Built with a heat-protected three-part arm with continuous 360-degree rotation, the Brokk 800P effectively performs hot ladle and converter cleaning or whole refractory renovations in metal processing industries. TimkenSteel purchased the 11-t unit in December 2014 to dig ladles at its Faircrest Steel Plant in Canton, OH.
TimkenSteel produces high quality alloy steel bars and tubes used in automotive, industrial and energy applications.
"Adding the Brokk 800P to our tool belt gives us considerable flexibility," says Thomas Sellari, TimkenSteel's Manager of Steel Making at Faircrest. "Its remote-controlled operation reduces risk of injury from hazards such as high temperatures and falling debris. Plus, it has a tracked wheel system, allowing us to easily move and position the machine to efficiently remove the refractory."
Sellari was interested in Brokk after seeing its machines at AISTech 2014, the Iron & Steel Technology Conference and Exposition. His factory needed new equipment to effectively remove refractory brick in its ladles. After the conference, he scheduled a demonstration of the Brokk 400 and 800P at his facility in August 2014.
"We were interested in purchasing the Brokk 400 before the demonstration," Sellari says. "However, during the demonstration we saw firsthand the benefits of the larger unit. Its size and extended reach is crucial in cleaning the ladles effectively."
TimkenSteel purchased the Brokk 800P in December 2014. To work with its hot ladles and furnace, the company paired it with a heat-protected Atlas Copco SB302 hydraulic breaker, which generates 450 ft.-lbs. of force at the tip of the solid-body hammer. TimkenSteel uses the machine to clean out its 175-t ladles, which hold liquid steel. During full production, the ladles require relining approximately every 50 heats.
Beyond its work with ladle clean-outs, TimkenSteel uses the Brokk 800P to clean ladle covers and lids, as needed, and to remove refractory lining from its electric arc furnace.
"Forty years after revealing our first demolition machine, we continue to improve the efficiency and safety of steel mills with our remote-controlled machines," says Peter Bigwood Brokk Inc.'s Vice President of Sales and Marketing. "The grueling application increases the risk for injury and heat exhaustion. Fortunately, Brokk's remote-controlled capabilities and unmatched power-to-size ratio nearly eliminate that risk, taking the strain off of the crew and keeping them out of harm's way."
Like any Brokk demolition machine, the Brokk 800P uses a variety of attachments, including scabblers, buckets and breakers with extended bits, to effortlessly tackle challenging applications. It's powered by a 98 hp diesel motor for use on remote locations where electricity is not readily accessible or it can be equipped with a 60 hp electric engine, which provides safe, emission-free operation in confined areas.
The Brokk 800P's three-arm system extends 31 ft. and rotates 360 degrees to reach challenging angles with precision. Plus, the machine features Brokk's signature compact design and high power-to-weight ratio for effective work in small, restricted spaces. Brokk also incorporated heat shielding on its arm system to help prevent high temperatures from damaging hydraulic lines and electrical systems.