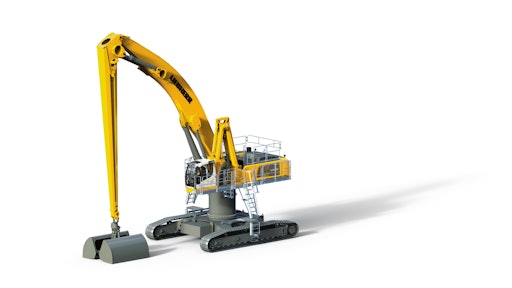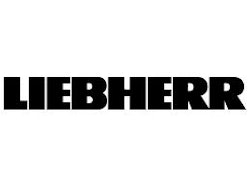 Liebherr will present the LH 110 C High Rise Port Litronic material handler at bauma 2016. The new Port Series handlers complement the existing Industry and Timber product lines. The LH 110 Port is available in wheeled, crawler or gantry undercarriage variants with standard or high-rise cab configuration. LH 110 Port handler's remarkable power capacity and low fuel consumption sets new standards in terms of efficiency.
The LH 110 C High Rise Port being showcased at bauma 2016 is designed for quick and efficient handling of bulk and general cargo in ports. Its configuration includes an angled 13.0 m/42 ft. 8 in. boom and a straight 12.0 m/39 ft. 4 in. stick. The stick with hydraulic quick-coupler in combination with the Liebherr multi-coupling system for hydraulic lines gives the machine the necessary flexibility for diverse port applications. The configuration also includes a Liebherr grapple model GMZ120 for bulk material with a capacity of 8.0 m³/10.46 yd3. Other highlights of the exhibit are the hydraulic double-pivot cab with infinitely adjustable height and forward movement, sliding doors with ground access. In addition, the LH 110 C High Rise Port features a robust crawler undercarriage with extra tower height of 2.0 m/6 ft. 7 in. The patented energy recovery system (ERC system) comes standard on the LH 110 C High Rise Port material handler.
High system power and intelligent control
The Liebherr LH 110 C High-Rise Port is powered by a 6-cylinder Liebherr diesel in-line engine designed to meet Stage IV/Tier 4 Final emissions standards. The machine is also available in Stage IIIA for certain countries. The LH 110 Port has an engine power of 300 kW/408 hp and, thanks to the ERC system, is able to deliver an overall system power of 431 kW/586 hp. With the newly designed configuration, the LH 110 C High-Rise Port achieves load capacities up to 10 t/22,046 lbs. with a range of over 20 m/65 ft. 7 in. The working radius of the machine is up to 27 m/88 ft. 7 in.
The new LH 110 C High-Rise Port handler combines intelligent electronics with sensitive hydraulics, thus ensuring extremely precise and finely-controlled work with fast and powerful movements at the same time. The sophisticated machine control system ensures optimal adaptation of the hydraulics to the respective use. Speed and strength are there where they are needed.
With intelligent machine control, the interaction of the drive components is optimized in terms of efficiency. Liebherr Power Efficiency (LPE) enables machine operation in the area of the lowest specific fuel use for less consumption and greater efficiency with maximum performance. In addition, fuel consumption is once again reduced thanks to the award-winning ERC system, so that overall fuel savings of up to 30% are possible with a simultaneous increase in handling capacity compared to the predecessor model R 974 C Litronic.
Comfortable technology for focused and productive work
The cab of the new LH 110 C High-Rise Port material handler offers optimal operator conditions for productive and focused work. Operator comfort is enhanced by the ergonomic design featured on the control consoles and operator's seat, along with the excellent panoramic view and low noise levels.
Standard features include comfort seat, proportional left and right control, and joystick steering for mobile machines boosts operators' comfort. Large cab windows, overall hydraulic cab height, as well as rear and side monitoring, offer an optimal view of the working area at all times. Safe handling of the machine is thus always guaranteed.