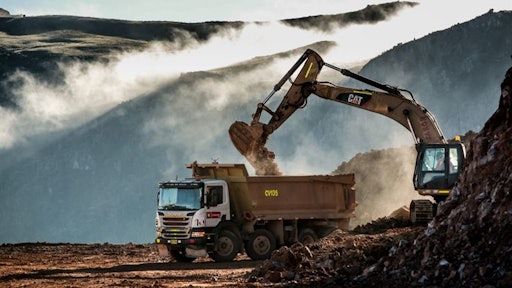 Scania Site Optimisation can help mine operators identify waste in their work processes, before offering a range of solutions to boost logistical flows that can be tailored to the customer's needs.
With mine operators around the world facing overcapacity and low commodity prices, their need for 'lean' efficiency measures is becoming crucial. Now Scania, which has more than doubled its output per employee in production over the last 20 years, can bring its experience of lean production in truck manufacturing to the mining sector.
"Scania Site Optimisation is a framework of tools and methods which identifies inefficiencies in logistical flows," explains Björn Winblad, Head of Scania Mining. "We are able to find and target bottlenecks in those flows using information relayed to us from communication units in each vehicle. That helps us map the flow in the mine – such as where the trucks load and unload – and provide us with data that we can analyze."
"Based on our analysis, we can provide the customer with a choice of services, products and actions to help them improve efficiency. We believe that Scania Site Optimisation could have a huge positive impact on a mining operator's bottom line."
A truly holistic approach
Scania Site Optimisation measures and evaluates production performance factors in five aspects, all of which are issues commonly faced by the mining industry:
Time (e.g. cycle time, uptime, queues of trucks, etc.)
Road (e.g. route design, maintenance issues, etc.)
Load (e.g. equipment matching, overloading, spilling, etc.)
Safety (e.g. overspeeding, etc.)
Sustainability (e.g. fuel consumption, emissions, etc.).
Customers can then choose from a full range of solutions according to their individual needs, whether it be data reporting, advisory services, improvement services, or even the outsourcing of the management of parts of their whole transport operation to Scania.
"We are leading the way with this holistic approach," says Winblad. "And we can also use our expertise and smart solutions from other industries, such as long haulage transport or bus transport, and apply them in mining. The services that Scania Site Optimisation can incorporate are all individually tried and tested modules that already exist."
Launching at MINExpo, but proof of concept already achieved
Scania Site Optimisation was unveiled during MINExpo, the world's largest mining and equipment exhibition, which is held every four years in Las Vegas.
Scania has been trialing this new concept for the past couple of years at various sites around the world, and customers have discovered its potential for efficiency improvements.