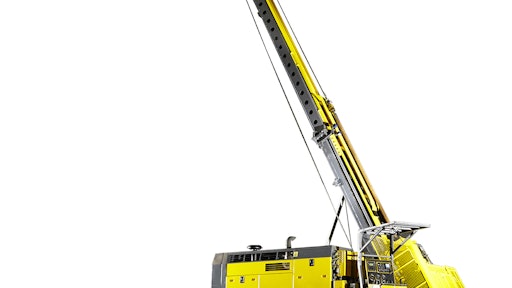 Safety on the surface will get a solid boost from the introduction of Atlas Copco's new surface core drilling rig, which was debuted at MINExpo 2016.
Called Christensen 140, the new rig offers a range of new safety features including a drill feed guard with an interlock function that stops the rotation of the drill string rotation unit when the hatch doors are opened. This meets the most stringent European safety standards.
Marie Bergman, Product Manager, Atlas Copco, says, "At MINExpo, we will be presenting a powerful, more robust core drilling rig for surface applications that meets worldwide safety standards. Not only that, it is capable of taking 6-m cores instead of the previous 3 m size, enabling exploration drillers to extract more samples per shift."
The new rotation unit is two-gear driven with a hydraulic shift at the control panel. The rotation unit includes an improved seal which prevents contamination.
The control panel includes functions, such as, constant penetration rate, hydraulic operation and improved rod centralizer. The operator panel has a swing away capability enabling the operator to improve his or her operating position.
Following MINExpo, the Christensen 140 will also be available with an optional rod handling system.