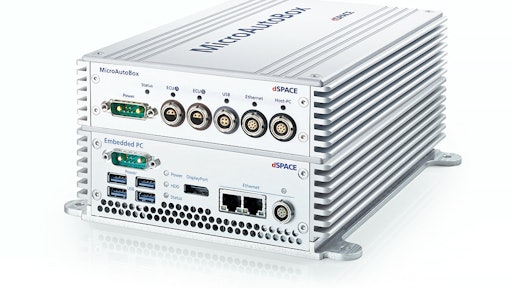 dSPACE now also offers an even more powerful variant of MicroAutoBox Embedded PC. With a quad-core, sixth generation Intel Core i7 processor, 16 GB RAM and 128 GB flash memory, it provides even more power for demanding and computation-intensive in-vehicle prototyping applications, such as advanced driver assistance systems (ADAS) and functions for automated driving.
Stand-Alone Operation
The new variant of Embedded PC can still be used in combination with MicroAutoBox in a compact and robust housing. Additionally, it is now also possible to use the Embedded PC as a stand-alone system without MicroAutoBox. As such, it can be used as a dedicated platform for Windows- or Linux-based applications like RTMaps, a software development environment for multisensor applications. This combination of high-performance hardware and software results in a perfect platform for the prototyping of complex algorithms for ADAS and automated driving, as well as for the time-synchronous recording and playback of large volumes of sensor and vehicle network data.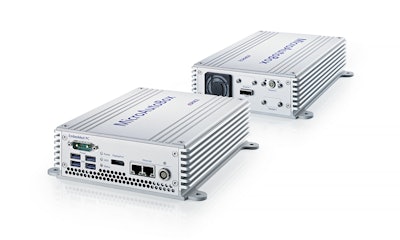 SATA interface for high-volume data logging applications
To record large volumes of data, e.g., from cameras as well as radar and lidar sensors, the new Embedded PC includes an external SATA interface (4 x SATA 3.0). The interface lets you capture data with a high bandwidth. For this use case, dSPACE will offer a MicroAutoBox Embedded DSU (Data Storage Unit) with up to four SSDs and several terabytes of storage capacity that can be used with Embedded PC.
Extension for in-vehicle prototyping of automotive Ethernet
The new variant of Embedded PC features the option to add up to three mPCIe plug-in cards. The system can thus be equipped with dSPACE-qualified extensions for WLAN, CAN, CAN FD, and BroadR-Reach Ethernet, for example. For the first time, the new variant is also available in a dSPACE Automotive Ethernet Embedded PC Bundle. It contains the new Embedded PC, one PCIe Mini Card with two Ethernet controllers and two BroadR-Reach interfaces, and a comprehensive software package for Ethernet configuration. In this setup, MicroAutoBox II can be directly used in service-oriented (SOME/IP) ECU networks. A media converter is not required. The entire SOME/IP communication can be conveniently configured on the basis of AUTOSAR and FIBEX 4 network description files on the Embedded PC. The latter is automatically synchronized with the real-time application implemented on MicroAutoBox II. By adding further BroadR-Reach cards, it is possible to implement up to six Ethernet channels in one compact system.